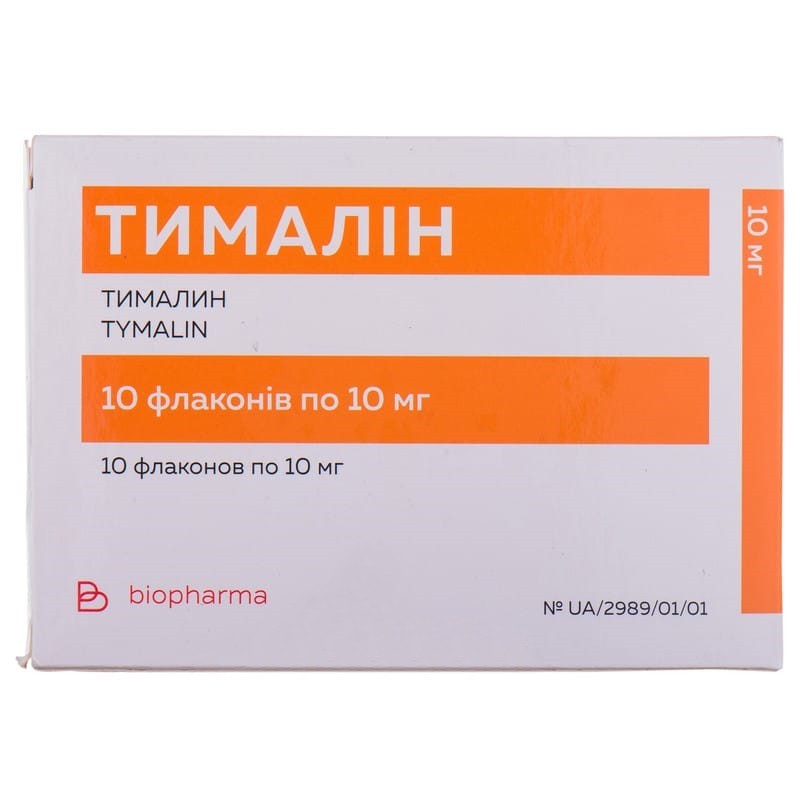  
Thymalin
Secure and encrypted payment processing

We ship to over 40 countries including the USA, UK, Europe, Australia and Japan

Guaranteed refund or reship if you haven't received your order
Pharmacological properties
it regulates the number and ratio of t- and b-lymphocytes and their subpopulations, stimulates cellular immunity reactions, enhances phagocytosis, stimulates regeneration and hematopoiesis processes in case of inhibition, and also improves cellular metabolism.
Pharmacokinetics Not studied.
Indications
Comprehensive treatment of diseases accompanied by a decrease in cellular immunity:
acute and chronic inflammatory diseases of bones and soft tissues;
violation of regenerative processes (bone fractures, burns, frostbite, trophic ulcers, radiation necrosis of tissues, gastric and duodenal ulcers);
acute and chronic bacterial and viral infections, multiple sclerosis, atherosclerosis obliterans, rheumatoid arthritis;
depression of immunity and blood formation after radiation therapy or chemotherapy, the use of antibiotics in high doses.
Application
The contents of the ampoule (vial) are dissolved in 1-2 ml of isotonic sodium chloride solution.
The dosage schedule of Thymalin is determined by the immunologist based on the clinical and laboratory examination of the patient.
V / m daily: adults 5–20 mg (30–100 mg per course); children under the age of 1 year - 1 mg; 1 year – 3 years - 1-2 mg; 4-6 years - 2-3 mg; 7-14 years - 3-5 mg for 3-10 days, depending on the severity of immunity. If necessary, the course is repeated after 1-6 months.
Contraindications
Hypersensitivity to the components of the drug. autoimmune diseases. During pregnancy and breastfeeding.
Side effects
Allergic reactions are possible.
special instructions
Thymalin treatment should be carried out with regular monitoring of immunological parameters. prescribed with caution in patients with ige-dependent pathology. thimalin can potentiate allergic reactions to other drugs while using them.
Use during pregnancy or lactation. There are no clinical data on the efficacy and safety of use during pregnancy or breastfeeding. The drug is contraindicated in pregnant women. During the treatment period, breast-feeding should be discontinued.
Children. It is used only as directed and under the supervision of a physician with the proven presence of disorders (inhibition) of cellular immunity.
The ability to influence the reaction rate when driving vehicles or working with other mechanisms. Not studied.
Interactions
Compatible with biostimulants and immunostimulating drugs, rifampicin, isoniazid, corticosteroids. the simultaneous use of thymalin and tactivin, thymactide, thymogen or thymoptin, which have a similar mechanism of action, should be avoided.
Overdose
Not marked.
Storage conditions
In the dark place at a temperature of no higher than 25 ° c.
arrow_upward