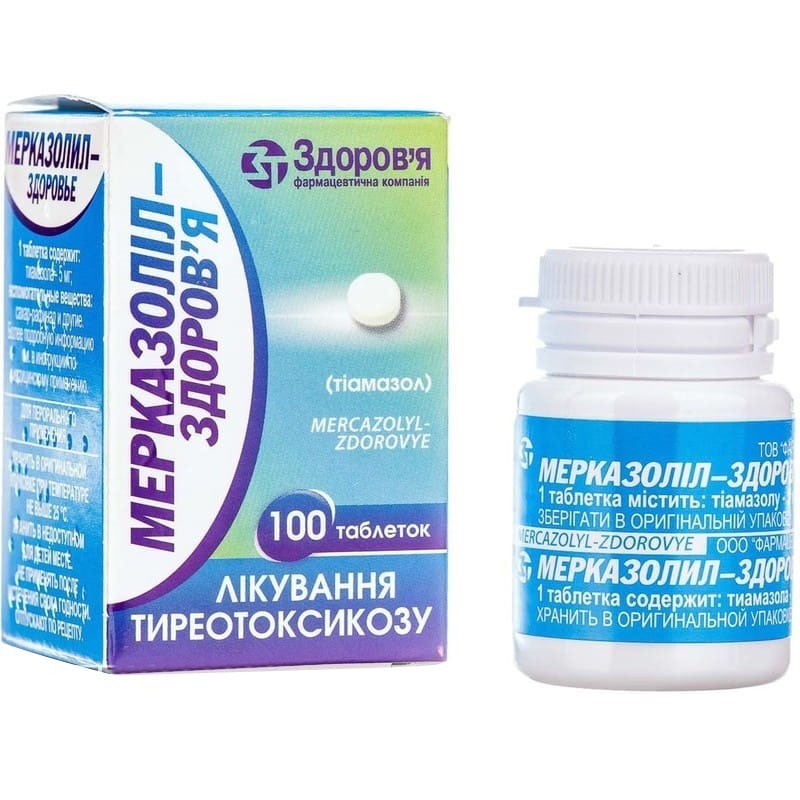  
Thiamazole
Secure and encrypted payment processing

We ship to over 40 countries including the USA, UK, Europe, Australia and Japan

Guaranteed refund or reship if you haven't received your order
General characteristics:
international and chemical names: Thiamazole; 1-methyl-2-mercaptoimidazole.
basic physical and chemical properties: tablets of a white or white color with a yellowish tint, with a flat surface, with a bevel;
composition: mercazolyl - 0.005 g;
excipients: sugar, potato starch, calcium stearate, talc.
Release form.
Tablets.
Pharmacological group. ATS Н03В В02. Hormone medications for systemic use. Antithyroid drugs.
Pharmacological properties.
The mechanism of action of Merkazolil is due to inhibition of the synthesis of thyroxine in the thyroid gland, which leads to the normalization of metabolic processes in it with hyperfunction. The drug lowers the basal metabolism. The effect of Merkazolil is manifested in accelerated elimination of iodides from the thyroid gland and inhibition of the activity of enzyme systems that oxidize iodides to iodine. As a result, inhibition of thyroglobulin iodization and the conversion of diiodotyrosine to thyroxine is observed.
Indications for use.
Merkazolil is prescribed for diffuse toxic goiter of mild, moderate and severe forms, preparing patients for surgery for thyrotoxicosis.
Dosage and administration.
Merkazolil is prescribed orally after a meal. In mild and moderate thyrotoxicosis, adults take the drug at 0.005 g 3-4 times a day, in severe form - at 0.01 g 3-4 times a day. After the onset of remission (usually after 3-6 weeks), the daily dose is reduced every 5-10 days by 0.005-0.01 g, gradually choosing the minimum maintenance dose: 0.005 g once a day; 0.005 g every other day; 0.005 g once every 3 days. Accepted until a lasting effect. With a relapse of thyrotoxicosis, the dose of the drug is again increased, adhering to the indicated treatment regimen. The duration of administration is determined by the form and severity of the disease, the effect achieved. Higher doses for adults by mouth: single - 0.01 g, daily - 0.04 g. For thyrotoxicosis in children, the initial dose is 0.4 mg / kg body weight per day, one-time, or divided into two doses; maintenance dose - 0.2 mg / kg of child's body weight per day, one-time, or divided into two doses.

Side effect.
Agranulocytosis, leukopenia, thrombocytopenia, disorders of the gastrointestinal tract, liver damage, dizziness, swelling, skin rash, paresthesia, joint pain, baldness, visual impairment, drug hypothyroidism, goiter effect. If a side effect occurs, the dose of the drug is reduced or the last is canceled.
Contraindications
Pregnancy, the period of breast-feeding, expressed leukopenia and granulocytopenia, nodular forms of goiter (the exception is a severe, progressive course, temporarily delaying surgery).
Overdose.
Clinical symptoms. Menstrual changes, dry skin, drowsiness, headache, muscle weakness. The specific antidote is unknown.
Interaction with other drugs.
Merkazolil can not be combined with drugs that cause leukopenia: amidopyrine and its analogues, sulfonamides.
Features of the application.
With an early cessation of treatment with Merkazolil, a relapse of the disease is possible.
There is evidence of the advisability of combining Merkazolil with lithium carbonate.
Merkazolil must be used under medical supervision and once a week to examine the condition of peripheral blood. In preparation for surgery, as a consequence of the use of the drug, increased bleeding of the thyroid gland is not excluded. In order to avoid this (when remission is achieved or a significant improvement in condition), Merkazolil is canceled and iodine preparations are prescribed. The operation is carried out after 2-3 weeks.
Terms and conditions of storage.
Store in a dry, dark place.
Shelf life is 5 years.
Vacation terms.
On prescription.
Packaging.
50 or 100 tablets in glass jars enclosed in packs of cardboard;
50 or 100 tablets in plastic containers for medicines;
50 or 100 tablets in plastic containers for medicines, enclosed in packs of cardboard.
arrow_upward