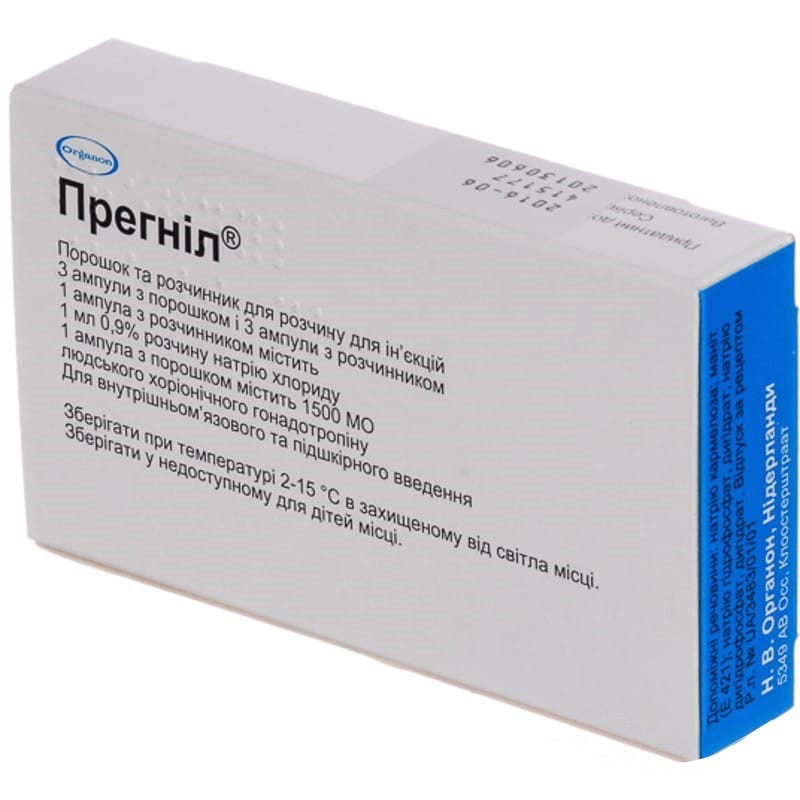  
Pregnyl® [Chorionic gonadotropin]
Secure and encrypted payment processing

We ship to over 40 countries including the USA, UK, Europe, Australia and Japan

Guaranteed refund or reship if you haven't received your order
Pharmacological properties
Pregnyl contains human chorionic gonadotropin (hhg) with lh activity. lg is necessary for normal growth and maturation of gametes in men and women, as well as for the production of sex steroid hormones.
In women, Pregnil is prescribed as a substitute for endogenously elevating LH levels in the middle of the cycle to induce the final phase of follicular maturation, which leads to ovulation. Pregnyl is also prescribed as a replacement for endogenous LH in the luteal phase.
In men, Pregnil is prescribed to stimulate Leydig cells to enhance testosterone production.
Pharmacokinetics Cmax hCG in blood plasma in men is achieved approximately 6 and 16 hours after a single i / m or s / c injection, and in women after approximately 20 hours. Despite such a high intersubject variability, changes after i / m administration may be due to a greater thick subcutaneous fat in the gluteal region in women compared with men. hCG is metabolized to 80% mainly in the kidneys. It was revealed that i / m or s / h administration of hCG is bioequivalent with respect to the degree of absorption and controlled T½approximately 33 hours. Given the recommended dosage regimens and duration T½cumulation is not expected.
Indications
In women: stimulation of ovulation with reduced reproductive ability due to the lack of ovulation or impaired egg maturation. preparation of eggs for puncture during controlled ovarian hyperstimulation (in the assisted reproductive technology programs - ART). luteal phase support.
In men: hypogonadotropic hypogonadism (also cases of idiopathic dyspermia, in which a positive response to gonadotropins is noted). Delayed sexual development due to insufficiency of the pituitary gonadotropic function. Cryptorchidism not caused by anatomical obstruction.
Application
The Pregnyl solution obtained by adding the solvent to the lyophilized active substance is administered intramuscularly or subcutaneously slowly. since the started ampoule cannot be sealed again in such a way as to further guarantee sterility of the contents, the solution must be used immediately after preparation.
Dose for women. Stimulation of ovulation with reduced reproductive ability due to lack of ovulation or impaired egg maturation and preparation of eggs for puncture during controlled ovarian hyperstimulation (in ART programs). Typically, 1 injection is 5,000-10,000 IU of Pregnil to complete treatment with drugs containing FSH.
Luteal phase support - 2-3 consecutive injections of Pregnyl at a dose of 1000-3000 IU each for 9 days after ovulation or transplantation of the embryo (for example, on the 3rd, 6th and 9th day after stimulated ovulation).
Dose for men
Hypogonadotropic hypogonadism. Pregnyl is prescribed at 1000–2000 IU 2-3 times a week.
In case of male infertility due to insufficiency of spermatogenesis, Pregnil can be prescribed in combination with FSH 2-3 times a week for at least 3 months until spermatogenesis improves. For the period of this treatment, it is necessary to temporarily discontinue testosterone replacement therapy. Sometimes, only hCG is sufficient to maintain the improvement achieved.
Delayed sexual development associated with insufficient production of gonadostopin by the pituitary gland. Pregnil is used at a dose of 1500 IU 2-3 times a week for at least 6 months.
Cryptorchidism. The drug is prescribed for children under 2 years of age at 250 IU 2 times a week for 6 weeks; at the age of 6 years - 500-1000 IU 2 times a week for 6 weeks; over the age of 6 years - 1500 IU 2 times a week for 6 weeks; if necessary, treatment can be repeated.
Contraindications
Hypersensitivity to human gonadotropins or any of the components of the drug; the presence or suspicion of the presence of tumors that are dependent on sex hormones, such as carcinoma of the ovary, breast or uterus in women, and carcinoma of the prostate or breast in men; genital malformations incompatible with pregnancy; uterine fibroid tumors incompatible with pregnancy.
Side effects
Immune system disorders: in some cases, a generalized rash, fever may occur.
General disorders and conditions at the injection site: Pregnyl can cause reactions at the injection site such as bruising, pain, redness, swelling, and itching. Allergic reactions manifested mainly in the form of soreness and skin rash at the injection site.
Among women
Vascular disorders: in rare cases, thromboembolism has been associated with FSH / hCG therapy, usually in association with severe ovarian hyperstimulation syndrome.
Respiratory, thoracic and mediastinal disorders: hydrothorax as a complication of severe ovarian hyperstimulation syndrome.
From the digestive tract: abdominal pain and gastrointestinal symptoms, such as nausea and diarrhea, associated with mild ovarian hyperstimulation syndrome; ascites as a complication of severe ovarian hyperstimulation syndrome.
Disorders from the reproductive system and mammary glands: unwanted ovarian hyperstimulation, mild or severe ovarian hyperstimulation syndrome, breast pain, slight or moderate ovarian enlargement, ovarian cysts associated with mild ovarian hyperstimulation syndrome, large ovarian cysts (prone to rupture), usually associated with severe ovarian hyperstimulation syndrome.
Research: weight gain as a characteristic of severe ovarian hyperstimulation syndrome.
In men
Disruption of metabolism and nutrition: after the introduction of high doses, a delay in water and sodium is sometimes noted, which is considered the result of excessive production of androgens.
Disorders from the reproductive system and mammary glands: hCG therapy in rare cases can cause gynecomastia.
special instructions
Among women. with pregnancy following the induction of ovulation with gonadotropic drugs, the risk of multiple pregnancy increases; after adjuvant hormonal therapy - the risk of miscarriage; with pipe pathology - the risk of ectopic pregnancy (therefore, it is important to confirm the presence of an intrauterine pregnancy using an ultrasound scan). The rate of abortion in women using ART is higher than in the general population. it is also necessary to exclude the presence of uncontrolled non-gonadal endocrinopathy (for example, dysfunction of the thyroid gland, adrenal gland or pituitary gland).
The frequency of congenital malformations after ART may be slightly higher than after spontaneous conceptions. It is believed that this frequency is associated with differences in parental parameters (maternal age, sperm characteristics) and a high incidence of multiple pregnancy after ART. There is no evidence that the use of gonadotropins with ART is associated with an increased risk of congenital malformations.
Undesired ovarian hyperstimulation. In the treatment of female infertility due to anovulation or impaired follicular maturation, preliminary administration of the FSH preparation can lead to undesirable ovarian hyperstimulation. Therefore, before treatment with menotropin and at certain intervals during this therapy, it is necessary to conduct an ultrasound to assess the development of follicles, as well as determine the level of estradiol in the blood. With the development of a large number of follicles, the level of estradiol can increase rapidly (for example, 2 times in 2-3 days). The diagnosis of unwanted ovarian hyperstimulation can be confirmed by ultrasound. In this case, immediately discontinue the drug.In this case, pregnancy should be avoided and Pregnil should not be prescribed, since the administration of LH-active gonadotropin at this stage can induce, in addition to multiple ovulation, ovarian hyperstimulation syndrome. This is especially important in the treatment of patients with polycystic ovary. The clinical symptoms of the development of mild ovarian hyperstimulation syndrome are gastrointestinal upsets (abdominal pain, nausea, diarrhea), pain in the mammary glands, a slight increase in the ovaries or ovarian cysts. It was revealed that transient anomalies of liver function indices may be associated with ovarian hyperstimulation syndrome, indicating liver dysfunction, which may be accompanied by morphological changes during liver biopsy. In rare cases, a severe form of ovarian hyperstimulation syndrome is noted, which can pose a threat to the patient's life and is characterized by the development of large ovarian cysts (prone to rupture), ascites, weight gain, often hydrothorax, and sometimes thromboembolic complications.
Women with generally accepted risk factors for thrombosis, such as personal or family history, severe obesity (body mass index 30 kg / m2) or thrombophilia, have an increased risk of venous or arterial thromboembolic complications during or after treatment with gonadotropins. For such women, positive ART results must be weighed against risks. It should be noted that pregnancy itself carries an increased risk of thrombosis.
Pregnil should not be used to reduce body weight. hCG does not affect fat metabolism, fat distribution or appetite.
In men. Treatment of hCG leads to an increase in the production of androgens, therefore, patients with latent or severe heart failure, impaired renal function, increased blood pressure, epilepsy or migraine (a history of these diseases) should be under the constant supervision of a doctor, since sometimes an increase in androgen production can cause a worsening of the condition or relapse of the disease.
During pregnancy and breastfeeding. Pregnil can be used to support the luteal phase, but you should not continue taking the drug later in pregnancy. Pregnil cannot be used during lactation.
Children. In order to avoid early closure of the growth zone of the pineal gland or premature sexual development, hCG is used with caution in boys in the prepubertal period. It is necessary to carefully monitor the development of the musculoskeletal system.
The ability to influence the reaction rate when driving vehicles or working with other mechanisms. Since dizziness may occur with the use of the drug, care must be taken when driving vehicles or working with other mechanisms.
Interactions
The interactions of the drug rotted with other drugs have not been studied; therefore, interactions with commonly used drugs cannot be ruled out.
After administration, Pregnil may have an effect on the immunological determination of hCG in plasma / urine for up to 10 days, so a pregnancy test may be false positive.
Overdose
The acute toxicity of urinary gonadotropin preparations has been shown to be very low. however, it is likely that a too high dose of hhg may cause the development of ovarian hyperstimulation syndrome.
Storage conditions
In the dark place at a temperature of 2-15 ° C.
arrow_upward