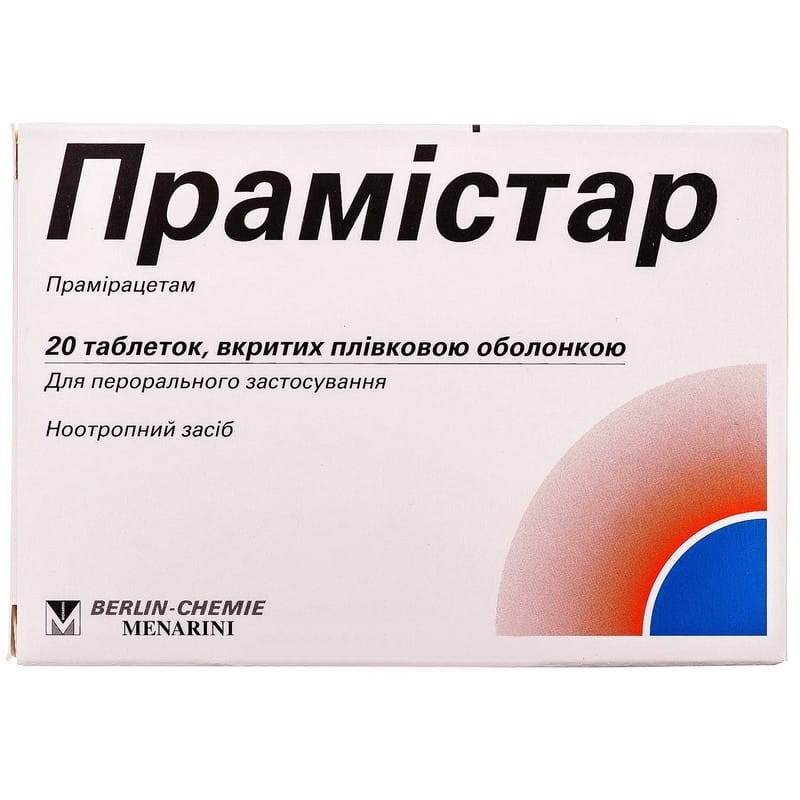  
Pramiracetam
Secure and encrypted payment processing

We ship to over 40 countries including the USA, UK, Europe, Australia and Japan

Guaranteed refund or reship if you haven't received your order
Pharmacological properties
Pramiracetam is a nootropic drug that improves memory and learning ability. the mechanism of action of the drug is not fully defined. by acting on cholinergic receptors and choline metabolism, pramiracetam stimulates neuronal activity. Pramiracetam has no inhibitory effect on the central nervous system and has no effect on the autonomic nervous system. Pramiracetam also has an antidepressant effect. during clinical trials in patients with mild to moderate senile dementia, pramiracetam increased concentration, improved ability to learn, remember, orient, and other mental activity.
Pharmacokinetics Studies of pharmacokinetics in humans have shown that the drug is rapidly and almost completely absorbed in the digestive tract. Cmax in blood plasma is reached after 2-3 hours. T½ is 4-6 hours. Pharmacokinetic parameters in elderly and young patients are similar. However, together with a decrease in creatinine clearance, the clearance of pramiracetam decreases. Pramiracetam does not bind to plasma proteins and is excreted in the urine in an almost unchanged state.
Indications
Decreased ability to concentrate and impaired memory of a degenerative or vascular origin, especially in the elderly.
Application
The recommended dose is 600 mg every 12 hours. The total daily dose should not exceed 1200 mg. a clinically significant effect can be expected no earlier than 4–8 weeks of treatment.
Patients of advanced age. No dose adjustment is required.
Patients with renal failure. In renal failure, delayed excretion of pramiracetam is observed. The clinical significance of delayed excretion of pramiracetam in renal failure has not been determined. Therefore, the drug should be used in patients with renal insufficiency with caution, and if undesirable effects appear, cancel it, since these may be signs of the accumulation of the active substance in the body. The use of Pramistar in severe renal failure is contraindicated.
Contraindications
Hypersensitivity to the active substance or other components of the drug, cerebral hemorrhage, severe renal failure, liver failure.
Side effects
From the digestive system: dry mouth, incontinence, dyspepsia, nausea, pain in the upper region of the stomach;
from the side of metabolism and nutrition: decreased appetite;
from the musculoskeletal system and connective tissue: painful muscle spasms;
from the nervous system: dizziness, tremor;
from the psyche: dysphoria, confusion, insomnia, psychomotor agitation;
from the kidneys and urinary system: urinary incontinence.
special instructions
In patients with renal failure, delayed excretion of pramiracetam is observed. therefore, use the drug in patients with renal failure with caution. when side effects occur, it is necessary to cancel it, since these reactions can be signs of the accumulation of the active substance in the body.
Piracetam (as a combination of one pharmacological class with pramiracetam) affects platelet aggregation and function, as well as other indicators of hemostasis. Therefore, Pramistar should be used with caution at the same time as anticoagulants or platelet aggregation inhibitors, as well as in patients with bleeding disorders.
Use during pregnancy and lactation. The use of pramiracetam during pregnancy and lactation is contraindicated.
Children. The study in children was not carried out, therefore, the drug is not recommended for children.
The ability to influence the reaction rate when driving vehicles or working with other mechanisms.Studies of the ability to influence the reaction rate when driving vehicles or working with other mechanisms have not been conducted. However, among the adverse reactions of pramiracetam, dizziness, psychomotor agitation, tremor and confusion are indicated. Therefore, patients should be warned about a possible effect on the ability to drive vehicles and work with other mechanisms.
Interactions
Interactions with cardiac glycosides, xanthines, anticoagulants and APF inhibitors were not detected in patients taking 600 mg of pramiracetam every 12 hours.
When prescribing to patients the active substances of the same pharmacological group with pramiracetam (e.g. piracetam) simultaneously with thyroid extract (T3 + T4) noted confusion, irritability and sleep disorders. According to the published simple blind study in patients with severe recurrent venous thrombosis, the use of piracetam (9.6 g / day) did not lead to a change in the dose of acenocoumarol to achieve the required international normalized ratio of 2.5-3.5. But compared with the action of acenocoumarol alone, the addition of piracetam (9.6 g / day) significantly reduced platelet aggregation, beta-thromboglobulin release, fibrinogen levels and von Willebrand factors (VIII: C, VIII: vW: Ag, VIII: vW: Rco), as well as the viscosity of blood and blood plasma.
Overdose
There are no reports of overdose. with a significant excess of the recommended therapeutic doses, symptomatic therapy should be carried out.
Storage conditions
At a temperature not exceeding 30 ° C.
Shelf life is 3 years. Do not use after the expiration date printed on the package.
arrow_upward