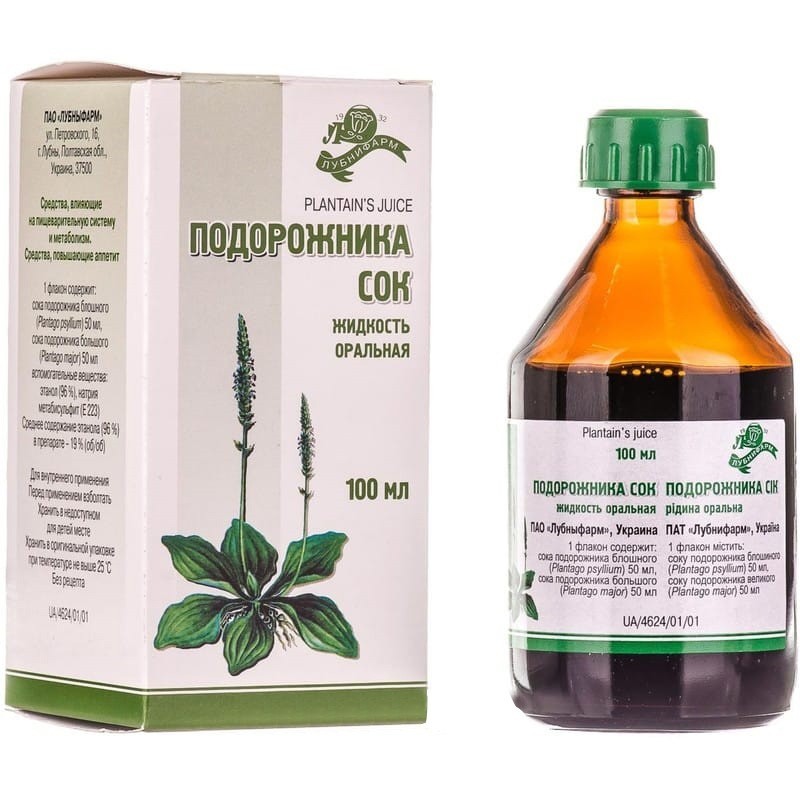  
Plantain juice
Secure and encrypted payment processing

We ship to over 40 countries including the USA, UK, Europe, Australia and Japan

Guaranteed refund or reship if you haven't received your order
PLANTAID JUICE oral liquid 100 ml
Instruction manual
For medical use of the drug
Plantain juice
Structure:
1 bottle contains: active ingredients: juice of plantain plantain (plantago psyllium) 50 ml, juice of plantain large (plantago major) 50 ml;
excipients: ethanol (96%), sodium metabisulfite (E 223).
Dosage form.
The liquid is oral.
Basic physical and chemical properties: dark brown liquid with a specific odor. During storage, sediment is allowed. Shake well before use.
Pharmacotherapeutic group.
Means that affect the digestive system and metabolism. appetite boosters.
ATX code A15.
Pharmacological properties.
Pharmacodynamics
Plantain contains rinanthin glycoside, flavonoids, polysaccharides, bitter, tannin and pectin substances, vitamin C, carotene, tannin, enzymes and other compounds. This complex of biologically active substances increases the secretory function of the stomach. Increases appetite.
Pharmacokinetics
Not studied.
Clinical characteristics.
Indications.
Anorexia; anacid gastritis; functional dyspepsia, the course of which occurs against a background of decreased secretion of gastric juice.
Contraindications
Hypersensitivity to the components of the drug.
Gastroesophageal reflux disease, including reflux esophagitis, increased acidity of gastric juice, gastric ulcer and duodenal ulcer.
Interaction with other drugs and other types of interactions.
Antacids and H2 blockers reduce the effectiveness of the drug.
Features of the application.
With gastritis of plantain juice is used only in cases of reduced or normal acidity of gastric juice.
When administered orally, do not exceed recommended doses.
Use during pregnancy or lactation.
During pregnancy or breastfeeding, plantain juice is used only when the expected benefit to the mother outweighs the potential risk to the fetus or child.
The ability to influence the reaction rate when driving vehicles or other mechanisms.
Due to the possibility of adverse reactions from the central nervous system, since the drug contains 20% ethanol, one should refrain from driving vehicles or other mechanisms requiring increased attention.
Dosage and administration.
Plantain juice taken orally 15-30 minutes before a meal. take 1 tablespoon 3 times a day. children from 12 years old - at the rate of 1 drop per year of life 2 times a day.
The course of treatment is 30 days.
Children.
Children under 12 years of age do not use the drug.
Overdose.
Cases of overdose are not described.
Adverse Reactions
Allergic reactions, including hyperemia, rash, itching, swelling of the skin. heartburn.
Metabisulfite, which is part of the drug, can cause severe hypersensitivity reactions, bronchospasm.
If any adverse reactions occur, stop using Plantain Juice and consult a doctor regarding its further use.
Shelf life.
3 years.
Storage conditions.
Store in the original packaging at a temperature not exceeding 25 ° C.
Keep out of the reach of children.
Packaging.
100 ml in bottles No. 1.
Vacation category.
Over the counter.
Manufacturer.
Pao Lubnypharm.
The location of the manufacturer and the address of the place of his activity.
Ukraine, 37500, Poltava region, Lubny, st. Barvinkova, 16.
arrow_upward