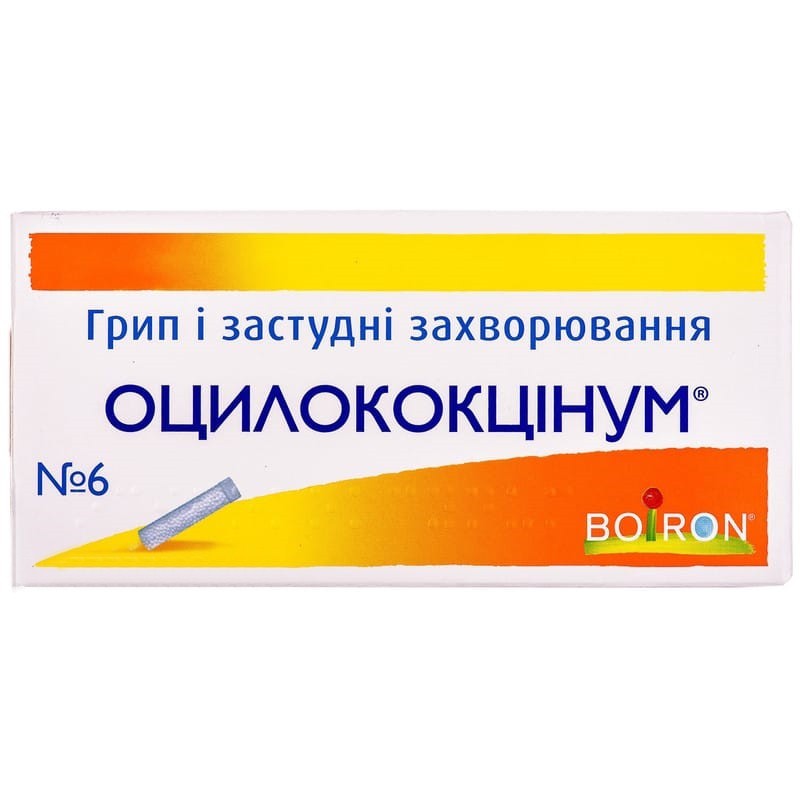  
Oscillococcinum
Secure and encrypted payment processing

We ship to over 40 countries including the USA, UK, Europe, Australia and Japan

Guaranteed refund or reship if you haven't received your order
Pharmacological properties
A homeopathic remedy, the pharmacological properties of which are due to the action of its components. increases nonspecific reactivity of the body, is used for influenza and colds, both for therapeutic and prophylactic purposes.
Indications
Symptomatic treatment, prevention of influenza and ARVI (with symptoms of fever, chills, sensation of body aches, headache).
Application
Orally. the contents of 1 pencil case (1 g of granules) are placed under the tongue and kept in the mouth until completely dissolved. used in patients of adult and childhood.
Dosage depends on the stage of the disease.
For the prevention of the disease: during the period of the flu epidemic and the risk of developing a catarrhal disease - 1 dose (1 g of granules, contents of 1 pencil case) 1 time per week to reduce the risk of the disease.
Initial stage of the disease: take 1 dose of the drug immediately after the first symptoms of the disease appear, then - 1 dose 2-3 times a day with an interval of 6 hours.
Stage of expressed manifestations of the disease: 1 dose 2 times a day (morning and evening) for 1-3 days.
Contraindications
Hypersensitivity to the components of the drug, rare hereditary fructose intolerance, glucose-galactose malabsorption or sucrose-isomaltase deficiency.
Rare galactose intolerance, deficiency of Lapp-lactase.
Side effects
Perhaps the development of allergic reactions in individuals with increased sensitivity to the components of the drug.
special instructions
During pregnancy and breastfeeding. there is no data on the safety of the use of the oscillococcinum. the drug is prescribed if the expected benefit to the mother outweighs the potential risk to the fetus / child.
Does not affect the ability to drive vehicles and work with mechanisms.
Children. The use of Oscilococcinum is recommended for children over the age of 2 years.
For children aged 2-6 years, granules should be dissolved in water before use.
Interactions
Not studied.
Overdose
No messages.
Storage conditions
At a temperature of 4–25 ° C.
arrow_upward