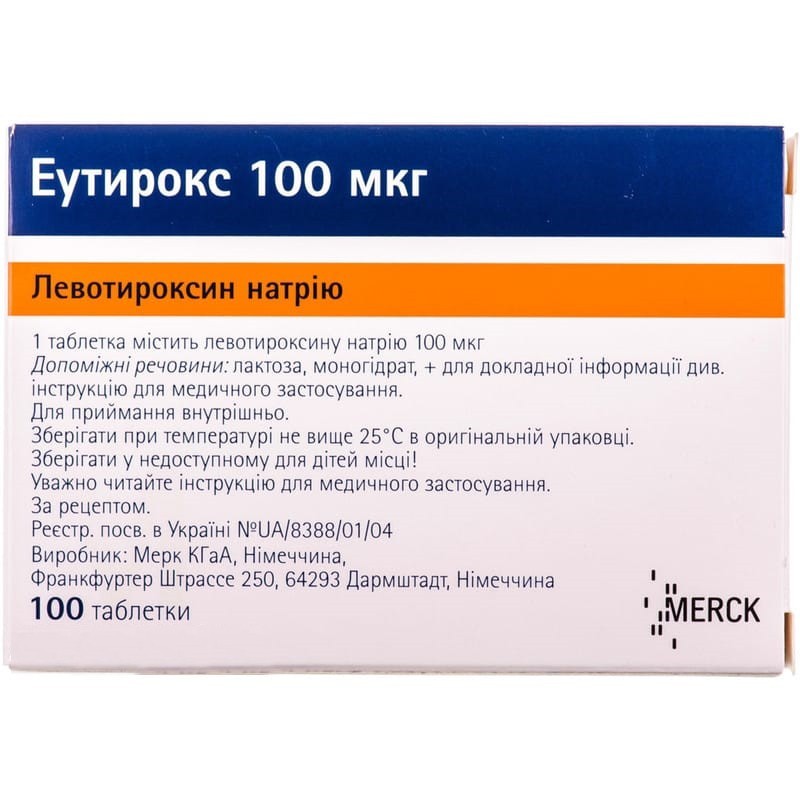  
Levothyroxine sodium
Secure and encrypted payment processing

We ship to over 40 countries including the USA, UK, Europe, Australia and Japan

Guaranteed refund or reship if you haven't received your order
Pharmacological properties
Levothyroxine, a synthetic levorotatory isomer of thyroxine, which is contained in the eutirox preparation, has effects identical to those of the hormone secreted by the thyroid gland. Levothyroxine is converted to T3 (triiodothyronine) in the peripheral organs as an endogenous hormone and affects T3 receptors. there is no difference between the functions of endogenous hormone and exogenous levothyroxine.
Pharmacokinetics After oral administration, levothyroxine is almost completely absorbed in the upper part of the small intestine (up to 80% of the dose taken).
Cmax achieved in about 5-6 hours. The clinical effect of the drug appears after 3-5 days. Levothyroxine quickly binds to specific transport proteins of the blood (up to 99.97%). Communication with proteins is not covalent, so the bound hormone that is in the blood plasma is able to constantly and quickly exchange with free hormone fractions.
Due to the high level of protein binding, levothyroxine is not amenable to either hemodialysis or hemoperfusion.
T½ is 7 days. With thyrotoxicosis, this period is reduced to 3-4 days, and with hypothyroidism lengthens up to 9-10 days. The liver accumulates about 1/3 the total amount of levothyroxine injected quickly interacts with levothyroxine in the blood plasma. Thyroid hormones are metabolized mainly in the liver, kidneys, brain and muscles. Metabolites are excreted in urine and feces. The total clearance of levothyroxine metabolism is about 1.2 liters of plasma per day.
Indications
Eutirox 25-200 mcg
Treatment of benign thyroid diseases.
Relapse prevention after surgical treatment of euthyroid goiter.
As a replacement therapy for hypothyroidism.
Suppressive therapy for thyroid cancer.
Eutirox 25–100 mcg
As an adjunct to antithyroid therapy for hyperthyroidism.
Eutirox 100/150/200 mcg
As a diagnostic tool during the thyroid suppression test.
Application
To treat each patient, depending on their individual needs, eutirox is available in the form of tablets containing 25 to 150 micrograms of sodium levothyroxine. therefore, patients are usually prescribed only 1 tablet per day.
Since an increase in the concentration of T4 and fT4 was observed in a number of patients during treatment with levothyroxine, the basal concentration of thyroid-stimulating hormone in blood plasma is a more reliable indicator for further dose adjustment.
Thyroid hormone therapy should be started with a low dose and gradually increased (every 2–4 weeks) to the required therapeutic dose.
For newborns with congenital hypothyroidism, where the rapid achievement of a therapeutic effect is very important, the initial recommended dose is 10-15 μg / kg body weight per day for the first 3 months. After this, the dose is adjusted individually depending on the clinical parameters and TSH level of the thyroid gland.
Elderly patients with cardiovascular diseases and with severe prolonged hypothyroidism should begin treatment with extreme caution, from low doses (12.5 μg / day), increase the dose to support at long intervals (12.5 μg every 2 weeks ), regularly monitoring the level of thyroid hormones. It should be noted that the appointment in a dose below the optimal, which provides full replacement therapy, does not lead to a complete correction of TSH level.
Indications
Recommended doses (levothyroxine sodium), mcg / day
Treatment of benign thyroid diseases
75–200
Relapse prevention

after surgical treatment of euthyroid goiter

75–200
In replacement therapy for hypothyroidism in adults:
 
initial dose
25–50
maintenance dose
100–200
In replacement therapy for hypothyroidism in children:
 
initial dose
12,5–50
maintenance dose
100–150 mcg / m2 body surface
As an adjunct during antithyroid therapy of hyperthyroidism
50–100
Thyroid Cancer Suppressive Therapy
150–300
As a diagnostic tool for the thyroid suppression test
 
4 weeks before the test
3 weeks before the test
2 weeks before the test
1 week before the test
Eutirox 100 mcg
 
 
2 tablets per day
2 tablets per day
Eutirox 150 mcg
½ tablets per day
½ tablets per day
1 tablet per day
1 tablet per day
The daily dose can be used in one go.
Take the daily dose in the morning on an empty stomach, half an hour before meals, with a small amount of water (half a glass of water).
For newborns, give the daily dose at one time half an hour before the first feeding. Dissolve the tablet in water until a fine suspension is obtained, which should be prepared immediately before taking the drug.
Eutirox is used throughout life as a replacement therapy for hypothyroidism, after surgical interventions (strumectomy or thyroidectomy), as well as to prevent relapse after removal of euthyroid goiter. Prescribe complex therapy with thyreostatics after reaching the euthyroid state.
With a benign form of euthyroid goiter, the duration of treatment is from 6 months to 2 years. If the condition after treatment does not improve, surgery or radioactive iodine therapy should be prescribed.
Contraindications
Hypersensitivity to the components of the drug; adrenal insufficiency, pituitary insufficiency, thyrotoxicosis, not previously treated; acute myocardial infarction, acute myocarditis, acute pancreatitis; combination therapy with levothyroxine and antithyroid drugs during pregnancy is not prescribed (see special instructions).
Side effects
Clinical symptoms of hyperthyroidism can occur with an overdose, if the individual tolerated dose of levothyroxine is exceeded, if the dose is quickly increased at the beginning of treatment. symptoms:
on the part of the cardiovascular system: arrhythmia (atrial fibrillation, extrasystole), tachycardia, angina pectoris, flushing, palpitations;
from the nervous system: headache, insomnia, anxiety, brain pseudotumor, tremor;
from the gastrointestinal tract: vomiting, diarrhea, weight loss;
on the part of the skin and musculoskeletal system: increased sweating, muscle weakness and cramps;
common races
arrow_upward