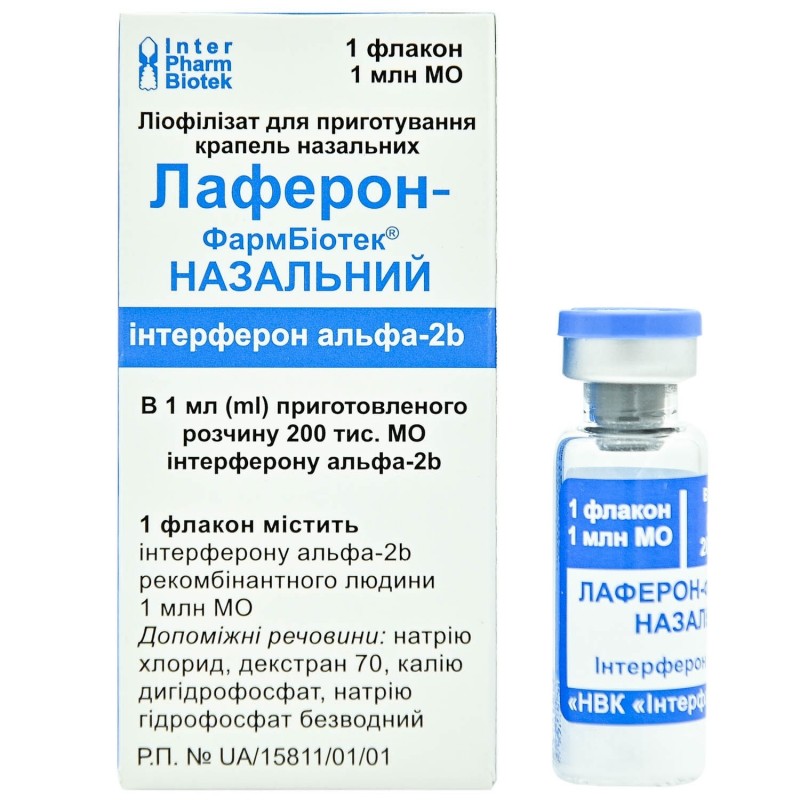  
Interferon alfa
Secure and encrypted payment processing

We ship to over 40 countries including the USA, UK, Europe, Australia and Japan

Guaranteed refund or reship if you haven't received your order
Alfarekin lyophilisate for injection is used in combination therapy for:
acute and chronic viral hepatitis B (moderate and severe forms);
chronic hepatitis C;
acute viral, bacterial and mixed infections (including acute respiratory viral infections in children, including newborns, acute diarrhea syndrome in newborns);
acute and chronic septic diseases of a viral and bacterial nature, including disseminated forms of acute and chronic sepsis;
herpetic infections of various localization: herpes zoster, multiple skin herpetic eruptions; genital herpetic infection; herpetic keratoconjunctivitis and keratouveitis, acute herpetic stomatitis in children;
chronic urogenital chlamydia;
lesions of the nervous system with mono- and polyradicular pain syndromes;
multiple sclerosis;
laryngeal papillomatosis;
melanoma of the skin and eyes; Kaposis sarcoma, myeloma; chronic myeloid leukemia, hairy cell leukemia, non-Hodgkin malignant lymphomas, namely follicular lymphoma.
Structure
Active ingredient: interferon alpha-2b recombinant person;
1 vial contains recombinant human interferon alfa-2b - 1 million MO;
Excipients: sodium chloride, dextran 70, potassium dihydrogen phosphate, anhydrous sodium phosphate.
Contraindications
hypersensitivity to interferon alfa-2b or other components of the drug;
severe diseases of the cardiovascular system (including heart failure at the stage of decompensation, recent myocardial infarction, severe arrhythmia);
severe renal and / or liver dysfunction;
epilepsy and / or other diseases of the central nervous system (including functional);
chronic hepatitis against the background of progressive or decompensated liver cirrhosis;
chronic hepatitis in patients receiving or recently received immunosuppressant therapy (except for a short course of corticosteroids);
a history of autoimmune hepatitis or other autoimmune diseases;
the patient has thyroid dysfunction;
the presence of severe visceral disorders in patients with Kaposis sarcoma;
psoriasis;
period of pregnancy (threat of failure).
Mode of application
Alfarekin® solution is administered intramuscularly, subcutaneously, intravenously, endolymphally, rectally, parabulbar, intranasally.
Preparation of a solution of the drug. A solution of the drug is prepared immediately before its use. As a solvent, use water for injection (if the solution is prepared for subcutaneous, intradermal or intramuscular injection). To prepare the solution, the contents of the vial are dissolved in 1 ml of water for injection.
Preparation and intravenous infusion of the drug. 30 minutes before the start of Alfarekin® infusion, start infusion of 0.9% sodium chloride solution (at a rate of 200 ml / h) and end it immediately before the drug is administered. To prepare the Alfarekin® infusion solution, first dissolve the dose of the injected drug in water for injection (at the rate of 1 ml of water for injection), then select the required amount of the drug and add the prepared solution to the prepared solution 50 ml of 0.9% sodium chloride solution intravenously for 30 minutes. After completion of Alfarekin® administration, infusion of a 0.9% sodium chloride solution should be continued at a rate of 200 ml / h for 10 minutes.
Apply injection solution immediately. For intranasal use, the solution is used for 1 day, provided that it is stored from 2 to 8 ° C.
Application features
Pregnant women
During pregnancy and lactation, the use of the drug is contraindicated.
Drivers
Depending on the dose, regimen and individual sensitivity to interferon alfa, treatment may be accompanied by drowsiness, weakness, fatigue and lead to a decrease in the rate of psychomotor reactions. In such cases, you should refrain from driving vehicles and working with mechanisms.
Overdose
To date, cases of an overdose of Alfarekin® have not been described. However, as with an overdose of any medicinal substance, the recommended symptomatic therapy with monitoring the functions of vital organs and monitoring the patients condition.
Side effects
Injection administration of Alfarekin®, like all other alpha-interferon preparations, is in most cases accompanied by a flu-like syndrome characterized by fever, chills, headache and muscle pain, joint pain, lethargy, and a feeling of increased fatigue. These side effects are dose-dependent and, as a rule, occur only in the first days of treatment, then weaken and pass. These symptoms can be stopped or significantly reduced by prescribing paracetamol at a dose of 0.5-1 g 30-40 minutes before the injection. Rarely, vomiting, dizziness, and flushing may occur.
Interaction
With caution, the drug should be used simultaneously with opioid drugs, analgesics, sleeping pills and sedatives (potentially causing a myelosuppressive effect).
When using the drug in combination with chemotherapeutic drugs (cytarabine, doxorubicin, teniposide, cyclophosphamide), the risk of developing life-threatening toxic effects (their severity and duration) increases.
Storage conditions
Store in the original packaging at a temperature of 2 to 8 ° C, out of the reach of children.
Shelf life is 3 years.
arrow_upward