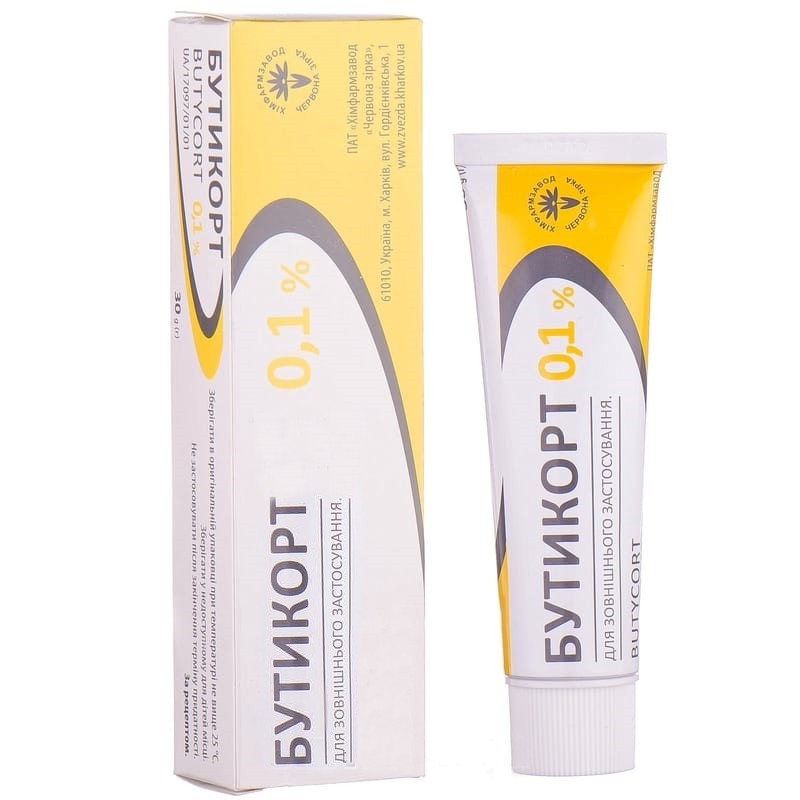  
Hydrocortisone
Secure and encrypted payment processing

We ship to over 40 countries including the USA, UK, Europe, Australia and Japan

Guaranteed refund or reship if you haven't received your order
BUTICORT ointment 1 mg / g
Instruction manual
For medical use of the drug
Structure:
Active ingredient: hydrocortisone butyrate;
1 g (g) ointment contains hydrocortisone butyrate 1 mg (mg);
excipients: white soft paraffin, mineral oil, benzyl alcohol.
Dosage form.
Ointment.
Basic physical and chemical properties: greasy soft homogeneous ointment of a grayish-white color.
Pharmacotherapeutic group.
Corticosteroids for use in dermatology. code atx d07a b02.
Pharmacological properties.
Pharmacodynamics
Hydrocortisone butyrate is an active synthetic non-halogenated corticosteroid for topical use. It quickly has anti-inflammatory, decongestant, antipruritic effect. Its effectiveness is the same as that of halogenated steroids. Use at recommended doses does not suppress the hypothalamic-pituitary-adrenal system. Although the use of large doses of the drug for a long time, especially when using occlusive dressings, can lead to an increase in the content of cortisol in the blood plasma, this is not accompanied by a decrease in the reactivity of the pituitary-adrenal system, and drug withdrawal leads to a quick normalization of cortisol production.
Pharmacokinetics
Suction. After application, the active substance accumulates in the epidermis, mainly in the granular layer.
Metabolism. Hydrocortisone butyrate, absorbed through the skin, is metabolized to hydrocortisone and other metabolites directly in the epidermis, and then in the liver. Metabolites and a small portion of unchanged hydrocortisone butyrate are excreted in urine and feces.
Clinical characteristics.
Indications.
Superficial uninfected dermatoses that are treated with local corticosteroids (eczema, allergic and contact dermatitis, neurodermatitis, psoriasis).
Continuation of treatment or maintenance therapy for dermatoses, for the treatment of which stronger corticosteroids have been used in the past.
Contraindications
Except in cases of treatment in combination with appropriate chemotherapeutic agents:
skin lesions (wounds) caused by bacterial infections (e.g. pyoderma, syphilitic or tuberculosis lesions), viral infections (e.g. chicken pox, herpes simplex, herpes zoster, common wart, flat wart, condyloma, molluscum contagiosum); infections caused by fungi and yeast; parasitic infections (e.g. scabies);
ulcerative skin lesions, wounds;
adverse reactions caused by corticosteroids (e.g., perioral dermatitis, striae);
ichthyosis, juvenile plantar dermatosis, acne vulgaris, rosacea, fragility of the vessels of the skin, atrophy of the skin;
allergic hypersensitivity reactions to the components of the drug or corticosteroids (the latter rarely occur).
Interaction with other drugs and other types of interactions.
Interaction studies have not been conducted.
Features of the application.
Do not apply ointment on the eyelids due to the possibility of contact with the conjunctiva and an increased risk of developing conventional glaucoma or subcapsular cataract.
The skin of the face, genitals and scalp is most sensitive to corticosteroids. Thus, only weak corticosteroids can be used to treat damage in these areas.
It should be borne in mind that when using corticosteroids on large areas of the skin, especially using a (cellophane) dressing or in the crease area, it is possible to increase the absorption of the drug, which can lead to inhibition of adrenocortical function.
Inhibition of the adrenal cortex can quickly develop in children. Growth hormone production may also be suppressed.If long-term treatment is necessary, it is advisable to regularly monitor the growth and body weight of the child, as well as determine the levels of cortisol in the blood plasma.
When conducting comparative studies, there were no significant differences in adrenocortical function in children who used Buticort ointment or 1% hydrocortisone in an amount of 30-60 grams per week for 4 weeks.
The use of the drug in the face, folds and other areas of thin skin can lead to atrophy of the skin and increased absorption of the drug.
Corticosteroids for external use can be dangerous for patients with psoriasis due to a number of reasons, including "rebound syndrome" due to the development of tolerance, the risk of generalized pustular psoriasis, or local and systemic toxic effects due to damage to the skins barrier function. Steroids can be used in case of scalp psoriasis or chronic plaque psoriasis of the hands and feet. It is important to carefully monitor patients.
Children, including and babies.
There is the possibility of side effects in infants with excessive use. Particular care should be taken with dermatoses in infants, in particular with diaper dermatitis. In such patients, the course of treatment, as a rule, should not last more than 7 days.
Use during pregnancy or lactation.
Pregnancy.
Data on the use of hydrocortisone butyrate in pregnant women are absent or limited. The results of studies in laboratory animals indicate the reproductive toxicity of the drug. Corticosteroids cross the placenta. Currently, there is no clear information regarding the development of teratogenic effects in humans, similar to those observed in animal experiments. With the systemic use of large doses of corticosteroids, effects on the fetus or newborn were reported (growth retardation in the uterus, adrenocortical suppression).
Despite the small amount of information on the use of corticosteroids on human skin during pregnancy, given their limited systemic absorption, it is possible to use mild to moderate corticosteroids (class 1 and class 2), such as hydrocortisone, for short periods of time and in limited areas of the skin. The above effects cannot be ruled out with prolonged use or application to large areas of the skin. This can only be done with special indications.
Lactation.
Hydrocortisone butyrate / metabolites pass into breast milk, but when using Buticort, the ointment is not expected to be applied in therapeutic doses to newborns / infants who are breast-fed. Boutique, ointment can be used for women who breastfeed, only in conditions of short-term treatment and application to small areas of the skin. For long-term treatment or application to large areas or to affected skin, breast-feeding should be discontinued.
The ability to influence the reaction rate when driving vehicles or other mechanisms.
There is no data on the effect of Buticort ointment on the ability to drive vehicles or other mechanisms. the emergence of influence is not expected.
Dosage and administration.
For cutaneous use.
The drug is applied in a small amount with a thin even layer on the affected areas no more than 2 times a day.
Application under an occlusive dressing is possible in the presence of more stable lesions, such as thickened psoriatic plaques on the elbows and knees (excluding weeping lesions).
Dosage
The total course dose should not exceed 30-60 g (g) ointment per week.
Adults and elderly patients.
Adults and elderly patients use the same dose, since there is no clinical evidence that elderly patients need a special dosage regimen.
Children.
If possible, prolonged treatment should be avoided.
From 3 months to 1 year.
If possible, the treatment period should last a maximum of 7 days.
Overdose.
In case of constant overdose or inappropriate use, side effects may occur, described in the "adverse reactions" section.
If symptoms of hypercorticism are observed, treatment should be discontinued.
Adverse Reactions
Body system rarely (1/10000, rarely ( from the immune system hypersensitivity from the endocrine system adrenocortical suppression on the part of the organs of vision increased intraocular pressure, increased risk of cataracts (when applied topically) on the part of the skin and subcutaneous tissue contact allergy; pustular acne; skin atrophy, often irreversible, accompanied by a thinning of the epidermis, telangiectasias, purpura and striae; depigmentation; rosacea-like and perioral dermatitis, with or without skin atrophy; "Rebound effect", which can lead to steroid dependence; dermatitis and eczema, including contact dermatitis, delayed wound healing; hypertrichosis.
Systemic adverse reactions with topical administration of corticosteroids in adults are rare, but can be serious. This is especially true for adrenocortical suppression with prolonged use of the drug.
The risk of systemic effects increases in the following cases: when applied using a dressing (cellophane dressing or in areas of skin folds); when applied to large areas of the skin; long-term treatment; when applied to children (children are extremely sensitive due to the presence of thin skin in children and a relatively large surface area); the presence of components or auxiliary substances that enhance penetration through the stratum corneum and / or enhance the effect of the active substance.
The risk of developing local adverse reactions increases with increasing strength of the drug and the duration of treatment. The use of a dressing (cellophane dressing or application in areas of skin folds) increases this risk. The skin of the face and scalp, as well as the genitals, is especially sensitive to the occurrence of adverse reactions. With inappropriate use, as well as in the presence of bacterial, parasitic, fungal or viral infections, the manifestations of these diseases can be masked and / or amplified.
Shelf life.
2 years.
Do not use after the expiration date indicated on the package.
Storage conditions.
Store in the original packaging at a temperature not exceeding 25 ° C.
Keep out of the reach of children.
Packaging.
10 g (g) in a tube or 30 g (g) in a tube. 1 tube in a pack of cardboard.
Vacation category.
On prescription.
Manufacturer.
Pao "chemical farm" red star ".
The location of the manufacturer and the address of the place of business.
61010, Ukraine, Kharkov, st. Gordienkovo, 1.
arrow_upward