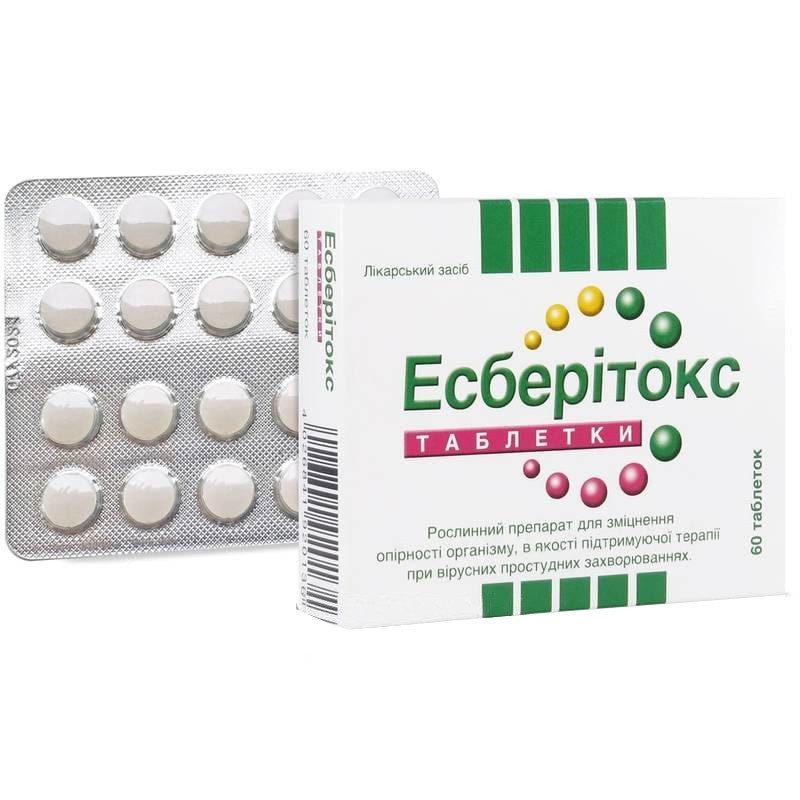  
Esberitox
Secure and encrypted payment processing

We ship to over 40 countries including the USA, UK, Europe, Australia and Japan

Guaranteed refund or reship if you haven't received your order
Pharmacological properties
Baptism dyeing - accelerates the formation of antibodies. acts on b-lymphocytes (specific immunity).
Echinacea purpurea and Echinacea pallida - stimulate phagocytosis (nonspecific immunity).
Thuja - has an antiviral effect.
Indications
To increase the bodys resistance as maintenance therapy in the complex treatment of respiratory viral colds.
Application
Adults and children over 12 years old take 3-6 tablets a day.
Children aged 7 to 11 years: 3 tablets per day, 2 tablets.
Children aged 4 to 6 years: 3 times a day for 1-2 tablets.
Drink tablets with a large amount of liquid, preferably water, or dissolve in the oral cavity in the morning, afternoon and evening.
Children. The drug is intended for children from 4 years.
Contraindications
Hypersensitivity to active substances or any of the auxiliary components of the drug. the drug should not be used in patients with advanced systemic diseases (tuberculosis and sarcoidosis); with autoimmune diseases (collagenosis, multiple sclerosis); with immunodeficiency conditions (AIDS, HIV infection); in immunosuppressive conditions caused by the use of cytostatic drugs or immunosuppressants, for example after transplantation; with hematological diseases (leukemia, agranulocytosis).
Side effects
Assessment of side effects is based on such frequency indicators: very often: ≥1 / 10; often: ≥1 / 100–1 / 10; infrequently: ≥1 / 1000–1 / 100; rarely: ≥1 / 10 000–1 / 1000; very rarely: 1/10 000; unknown: frequency cannot be set from available data.
On the part of the immune system: hypersensitivity reactions, including skin rash, itching, facial swelling, shortness of breath, decreased blood pressure.
From the digestive system: abdominal pain, vomiting, diarrhea.
Common disorders: dizziness.
No frequency data available.
special instructions
If the symptoms of the disease worsen or last more than 10 days, or shortness of breath, fever, purulent or bloody discharge occurs, you should consult a doctor.
Patients with rare hereditary galactose intolerance, hereditary fructose intolerance, sucrose-isomaltase deficiency, lactase deficiency or malabsorption of glucose and galactose should not use the drug.
Use during pregnancy and lactation. Do not use.
The ability to influence the reaction rate when driving vehicles or working with other mechanisms. Unknown
Interactions
It was found that the drug from the root of Echinacea purpurea affects the activity of cytochrome-450 isoform of cyp 3a or cyp 1a2, which are involved in the metabolism of drugs. for other components of the drug esberitox, tablets, studies have not been conducted. this drug has not been sufficiently studied with respect to the above effect. therefore, the drug esberitox, tablets, should not be used together with drugs, the excretion of which depends on the activity of cytochrome-450 isoform of cyp 3a or cyp 1a2. currently there are no known contraindications for taking esberitox, tablets, with food and drinks. appropriate studies with the drug have not been conducted.
Overdose
Not marked.
Storage conditions
At a temperature not exceeding 30 ° c.
Exclusive Distributor: Naturfarm, ul. Lesnaya, 30a, Kiev, Pushcha-Voditsa, 04075; phone: (044) 401-81-03.
Supplier: Alpen Pharma AG (Switzerland).
arrow_upward