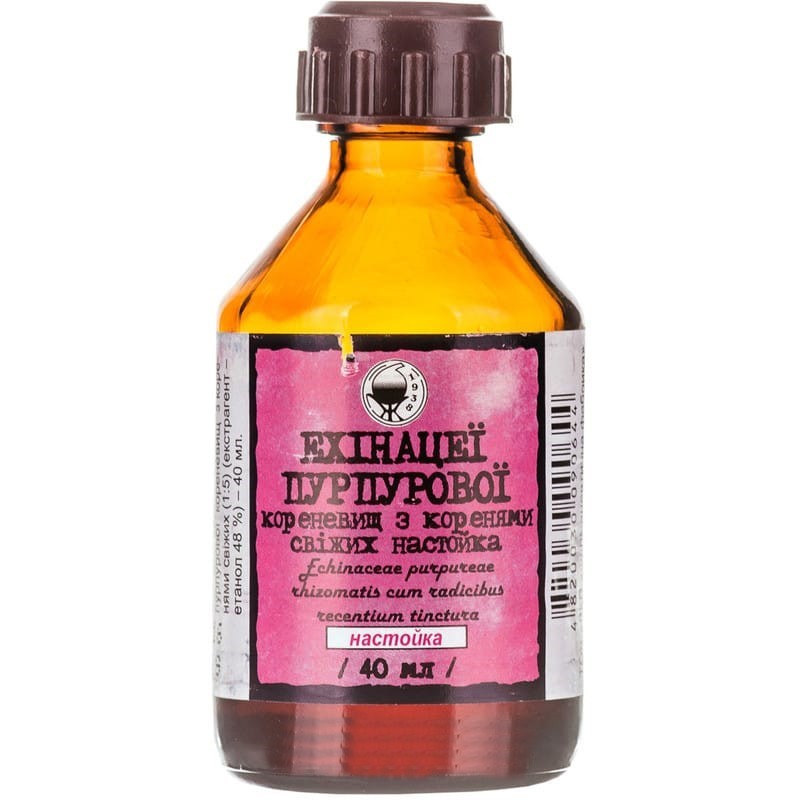  
Echinacea tincture
Secure and encrypted payment processing

We ship to over 40 countries including the USA, UK, Europe, Australia and Japan

Guaranteed refund or reship if you haven't received your order
Pharmacological properties
It activates the processes of cellular immunity, stimulates the phagocytic activity of macrophages and chemotaxis of granulocytes, and promotes the release of cytokinins. with prolonged use, tincture of echinacea increases the nonspecific resistance of the body to adverse environmental factors.
Indications
For the prevention and treatment of influenza and other acute respiratory viral infections, infectious and inflammatory diseases of the nasopharynx and oral cavity, as well as chronic non-specific respiratory diseases (as part of combination therapy).
Application
Inside, for adults - 5-15 drops 2-3 times a day 30 minutes before meals. if necessary, to achieve a quick effect, take 10-15 drops 5-6 times a day for 1-3 days. the course of treatment should not exceed 8 weeks.
For children aged 7-12 years, tincture is prescribed in diluted form (for 1 part of the drug 2-3 parts of boiled water), 5-10 drops 2-3 times a day before meals.
Contraindications
Hypersensitivity to the drug, allergies to Asteraceae, diabetes mellitus, progressive systemic diseases (tuberculosis, leukemia, collagenosis, common atherosclerosis).
Side effects
Chills, dyspeptic symptoms, allergic reactions. the use of the drug dramatically increases the susceptibility to plants of the species echinacea.
Storage conditions
In a cool, dark place.
arrow_upward