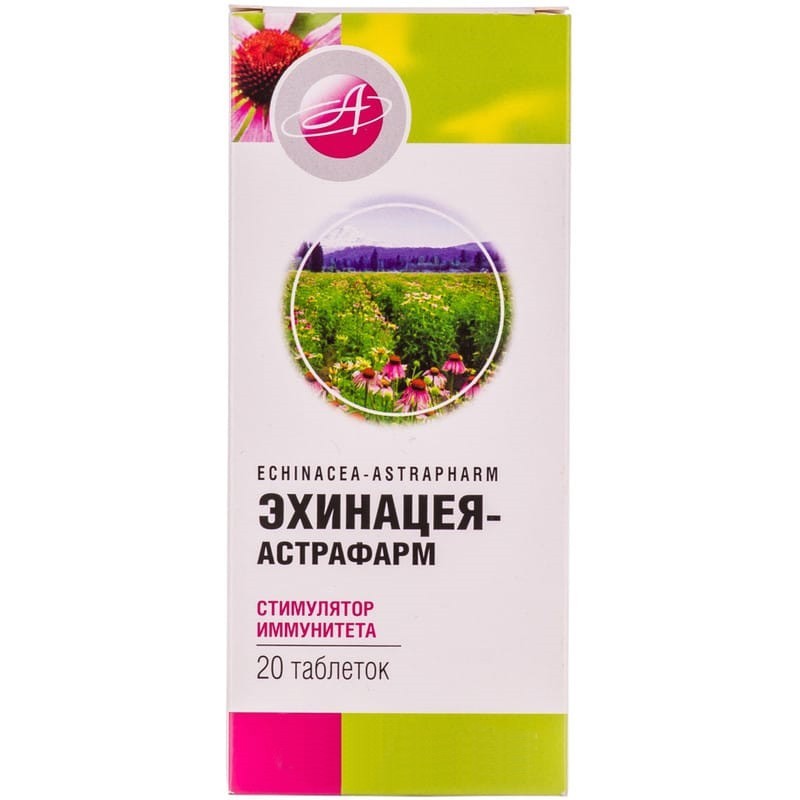  
Echinacea purpurea juice
Secure and encrypted payment processing

We ship to over 40 countries including the USA, UK, Europe, Australia and Japan

Guaranteed refund or reship if you haven't received your order
ECHINACEA-ASTRAFARM tablets 100 mg
Instruction manual
For medical use of the drug
Echinacea Astrapharmus
Structure:
Active ingredient: 1 tablet contains dried echinacea purpurea juice squeezed from the ground during flowering, calculated on the dry substance 100 mg;
excipients: sorbitol (E 420), sodium cyclamate, magnesium stearate, anhydrous colloidal silicon dioxide.
Dosage form.
Tablets.
The main physicochemical properties: round tablets with a biconvex surface and with a risk on one side, gray with a weak cream tint, interspersed with a more intense color.
Pharmacotherapeutic group.
Immunostimulants. code atx l03a x.
Pharmacological properties.
Pharmacodynamics
A plant biogenic stimulant with immunomodulatory and anti-inflammatory effects stimulates bone marrow circulation, as a result of which the number of leukocytes and cells of the reticuloendothelial system of the spleen increases. It primarily activates cellular immunity, stimulates the phagocytic activity of macrophages and chemotaxis of granulocytes, promotes the release of cytokines, increases the production of interleukin-1 by macrophages, accelerates the transformation of B-lymphocytes into plasma cells, enhances antibody formation and T-helper activity. Increases nonspecific resistance of the body (including to influenza and herpes pathogens).
Pharmacokinetics
It is well absorbed in the digestive tract. It is excreted in urine and feces.
Clinical characteristics.
Indications.
As part of combination therapy with frequent relapses of infectious diseases of the respiratory and urinary tract.
At the first signs of acute respiratory viral infections, prolonged use of antibiotics.
Contraindications
Hypersensitivity to the drug or to other complex plants (chamomile, calendula officinalis, dandelion); progressive systemic diseases (tuberculosis, diabetes mellitus); rheumatism; systemic diseases of the connective tissue (collagenosis); multiple sclerosis and other autoimmune diseases (systemic lupus erythematosus); chronic viral diseases; AIDS or HIV infection neoplasms; primary immunodeficiency; immunosuppression; blood leukocyte diseases (leukemia, agranulocytosis).
Pregnancy or lactation. Childrens age up to 12 years.
Interaction with other drugs and other types of interactions.
Due to the immunostimulating effect, echinacea can reduce the effectiveness of drugs that have an immunosuppressive effect.
The drug is not recommended for use simultaneously with drugs with hepatotoxic effects, such as amiodarone, methotrexate, ketoconazole, steroid drugs.
Features of the application.
The drug should not be used in patients with diabetes mellitus (1 tablet contains 577 mg of sorbitol, which corresponds to 0.05 hex).
With caution, the drug is used in patients with congenital sensitivity to fructose.
If respiratory diseases have frequent relapses and symptoms are present for a long time, manifested by difficulty breathing, fever, sputum with impurities of pus or blood, you should consult a doctor.
If symptoms of the disease worsen or body temperature rises during treatment, consult a doctor immediately.
In case of repeated complaints of impaired function of the urinary organs, it is necessary to undergo a medical examination, the patient should be under regular medical supervision.
Patients with a tendency to allergies should consult a doctor before taking the drug, since there is a risk of anaphylactic reactions.
The drug is recommended to be combined with the intake of vitamins A, E, C.
Use during pregnancy or lactation.
Do not use.
The ability to influence the reaction rate when driving vehicles or other mechanisms.
Given the possible effect of echinacea on the nervous system, use the drug with caution when driving or working with other mechanisms.
Dosage and administration.
Tablets can be absorbed, chewed or swallowed with a liquid. the time of taking the drug does not depend on the time of eating.
Adults and children over 12 years of age are prescribed 1 tablet (100 mg) 2 times a day. The maximum daily dose is 4 tablets (400 mg).
The duration of treatment is 10 days with daily use of the drug or 20 days if you take the drug every other day. The maximum duration of the drug should not exceed 2 weeks (with daily intake). In chronic diseases, the course of treatment can be repeated after an interval of 2-3 weeks.
Children.
The drug is not recommended for children under 12 years of age due to a lack of experience in its use.
Overdose.
Symptoms: nausea, vomiting, diarrhea, irritability, sleep disorder (insomnia).
Treatment: symptomatic therapy, gastric lavage, enterosorbents.
Adverse Reactions
Allergic reactions: redness of the skin, itching, rash, urticaria, facial edema, Stevens-Johnson syndrome, angioedema, anaphylactic shock, Quincke edema.
From the respiratory system: shortness of breath, shortness of breath, bronchospasm with obstruction, bronchial asthma.
From the central nervous system: dizziness, sleep disturbance.
From the cardiovascular system: arterial hypotension.
From the digestive tract: nausea, vomiting, diarrhea, abdominal pain.
There were separate reports of a relationship with autoimmune diseases (disseminated encephalomyelitis, erythema nodosum, immunothrombocytopenia, Evans syndrome, Sjogren-Larsen syndrome with impaired tubular renal function).
With prolonged use (more than 8 weeks), leukopenia may occur.
Shelf life.
2 years.
Storage conditions.
Store in the original packaging at a temperature not exceeding 25 os.
Keep out of the reach of children.
Packaging.
10 tablets in a blister; 2 blisters in a box.
Vacation category.
Over the counter.
Manufacturer.
LLC Astrapharm.
The location of the manufacturer and the address of the place of business.
Ukraine, 08132, Kiev-Svyatoshinsky borough, city of Cherry, st. Kiev, 6.
arrow_upward