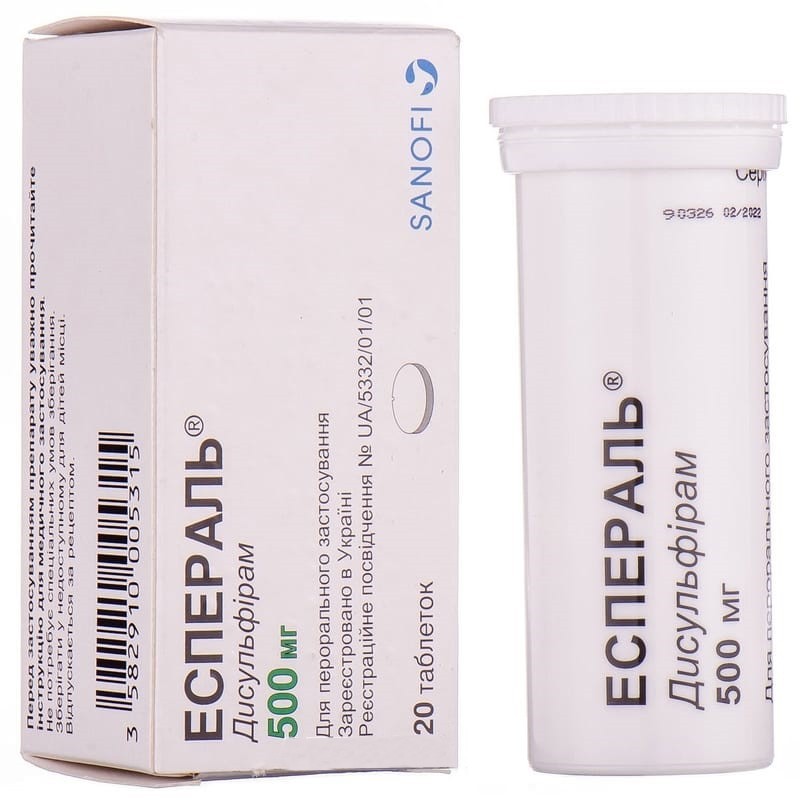  
Disulfiram
Secure and encrypted payment processing

We ship to over 40 countries including the USA, UK, Europe, Australia and Japan

Guaranteed refund or reship if you haven't received your order
Pharmacological properties
disulfiram inhibits the action of many enzymes. inhibition of acetaldehyde dehydrogenase leads to an increase in the concentration of acetaldehyde, an alcohol metabolite that causes unpleasant symptoms: intense facial flushing, nausea, vomiting, discomfort, tachycardia and hypotension.
Pharmacokinetics When taken orally, disulfiram is rapidly but not completely absorbed (70–90%). It is rapidly metabolized: converted to diethyldithiocarbamate, which is then excreted in the form of glucuronide or transformed into diethylamine and carbon disulfide. Part of the carbon disulfide is excreted by the lungs. The remainder is metabolized and excreted in the urine.
Indications
Adjuvant therapy to prevent relapse of alcohol dependence.
Application
The drug is intended for oral use. It is recommended that adults take 1 tablet per day. the tablet should be washed down with water (1/2 cup), taken in the morning during breakfast, after abstinence from drinking alcohol for at least 24 hours. The duration of the course of treatment is determined by the doctor individually.
Contraindications
Hypersensitivity to disulfiram or any of the components of the drug. severe liver failure. renal failure. severe respiratory failure. diabetes. neuropsychiatric disorders. cardiovascular diseases. the use of alcoholic beverages or medicines containing alcohol during the last 24 hours during pregnancy and lactation.
Side effects
Side effects caused directly by disulfiram
From the gastrointestinal tract: nausea, vomiting, pain in the stomach, diarrhea, metallic taste in the mouth, bad breath (halitosis), bad breath in patients with colostomy.
From the liver: an increase in the level of transaminases is often observed; rarely - hepatitis, including fulminant and lethal forms of hepatitis.
From the side of the central nervous system: polyneuritis of the lower extremities, optic neuritis.
Neuropsychiatric disorders: memory loss, confusion, drowsiness and fatigue at the beginning of treatment, headache.
On the part of the skin: allergic rashes on the skin, possibly cross-sensitivity to rubber.
Side effects due to the combination of disulfiram – ethanol: intense blush on the face, erythema, nausea and vomiting, malaise, tachycardia and hypotension.
In some cases: heart rhythm disturbance, angina pectoris, cardiovascular failure, myocardial infarction, respiratory depression and neurological symptoms (confusion, encephalopathy and epileptic seizures or convulsions), sudden death.
special instructions
The drug Esperal can be prescribed only after a comprehensive medical examination (including a laboratory study).
Functional liver tests, including determination of the level of transaminases in the blood serum, should be performed before treatment with disulfiram (see section CONTRAINDICATIONS), in the future, these functional tests should be carried out at the same time intervals, especially during the first 3 months of treatment. An increase in serum transaminases, three times the upper limit of normal, requires immediate termination of treatment without subsequent recovery. Careful monitoring of patients should be carried out until normal liver function tests are established.
The drug should be used with caution in patients with nickel dermatitis due to the increased risk of hepatitis.
The drug should never be prescribed to patients without their knowledge.
Since there are reports of very rare cases of fulminant hepatitis, therefore, in the event of signs of precursors (asthenia, anorexia, nausea, vomiting, abdominal pain or jaundice), you must immediately conduct a medical examination of the patient and determine the laboratory parameters of liver function tests (see SIDE EFFECTS).
The patient must be informed about the risk of developing a disulfiram reaction in the case of the simultaneous use of the drug and alcoholic beverages, even in small quantities. Patients need to be warned about the alcohol content in certain medicines (especially in solutions for oral use), food products, as well as some perfumes and cosmetics, such as aftershave and eau de toilette or cologne.
Unpleasant symptoms (intense blush on the face, erythema, nausea and vomiting, malaise, tachycardia and hypotension) develop within 10 minutes after drinking and last from 30 minutes to several hours.
Reactions caused by alcohol consumption can occur within 2 weeks after discontinuation of drug treatment. There are reports of more severe reactions: heart rhythm disturbances, angina attacks, cardiovascular failure, myocardial infarction, sudden death, respiratory depression and neurological symptoms (confusion, encephalopathy and epileptic seizures or convulsions).
During pregnancy and breastfeeding. Animal studies have shown that Esperal has a teratogenic effect. The teratogenic effect of the drug enhances alcohol, which by its nature is already teratogenic and fetotoxic in chronic use in large quantities.
There is not enough information to assess the potential teratogenic and fetotoxic effects of the drug if prescribed during pregnancy. Among a limited number of patients who took the drug during pregnancy, the manifestation of side effects was mainly observed in the case of simultaneous use of the drug with alcohol. Therefore, it is not recommended to use the drug during pregnancy. However, this is not the basis for recommending abortion to women who take disulfiram, but to a greater extent requires caution when using specific antenatal monitoring of fetal development.
It is not recommended to use the drug during lactation.
Influence on the ability to drive a car and perform work requiring increased attention. The patient must be warned that drowsiness may occur while taking the drug, therefore it is not recommended to drive a car and perform work that requires increased attention.
Interactions
Not recommended combinations
Alcohol: the development of a disulfiram reaction (flushing, redness, vomiting, and tachycardia). Avoid alcoholic beverages or medicines containing alcohol.
Isoniazid: impaired behavior and coordination of movements.
Medicines of the 5-nitroimidazole group (metronidazole, ordinazole, secnidazole, tinidazole): Bouffées délirantes (a kind of short reactive psychosis), confusion.
Phenytoin: a significant and rapid increase in plasma phenytoin levels with toxic manifestations (due to inhibition of its metabolism).
Combinations requiring caution when used together
Warfarin (extrapolated to other oral anticoagulants): increased effect of oral anticoagulants and the risk of bleeding (decreased metabolism in the liver).
Tricyclic antidepressants: may increase the reaction of alcohol intolerance.
Overdose
An overdose of only disulfiram can cause neurological effects: extrapyramidal syndrome, disorders of consciousness (coma, confusion and encephalopathy). symptomatic treatment.
An overdose of a disulfiram – ethanol combination may result in coma or confusion, cardiovascular failure, sometimes with neurological complications. The treatment is symptomatic.
Storage conditions
In a dry place at room temperature no higher than 25 ° c.
arrow_upward