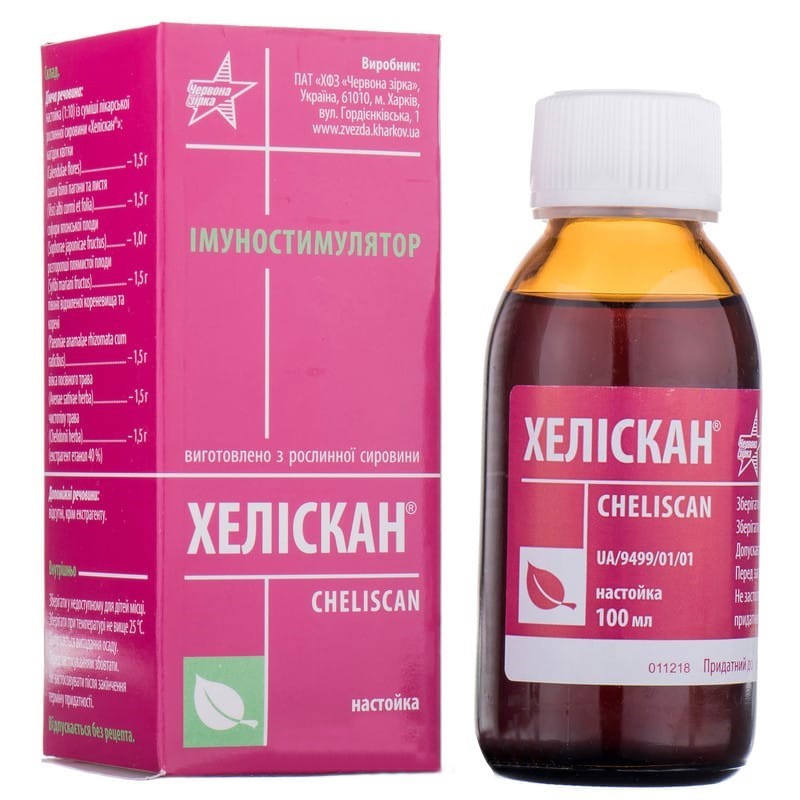  
Cheliscan
Secure and encrypted payment processing

We ship to over 40 countries including the USA, UK, Europe, Australia and Japan

Guaranteed refund or reship if you haven't received your order
HELISCAN® tincture
Instruction manual
For medical use of the drug
Structure:
Active ingredient: tincture (1: 10) from a mixture of medicinal plant materials "Heliskan": calendula flowers (calendulae flores) - 1.5 g; mistletoe white shoots and leaves (visci albi cormi et folia) - 1.5 g; Sophora Japanese fruit (sophoraе japonicaе fructus) - 1 g; milk thistle (sylibi mariani fructus) - 1.5 g; peony evading rhizomes and roots (paeoniae anamalae rhizomata cum radicibus) - 1.5 g; oats sowing grass (avenae sativae herba) - 1.5 g; celandine grass (chelidonii herba) - 1.5 g; (extractant ethanol 40%);
excipients: none, except for the extractant.
Dosage form.
Tincture.
Basic physical and chemical properties: yellowish-brown liquid with a specific aromatic odor. Precipitation is allowed.
Pharmacotherapeutic group.
Cytokines and immunomodulators. immunostimulants. code atx l03a x.
Pharmacological properties.
Pharmacodynamics
A herbal medicine exhibits a therapeutic effect due to a complex of biologically active substances that make up its composition.
Calendula flowers have a wound healing, bactericidal, anti-inflammatory, moderate choleretic effect, reduce reflex excitability.
Mistletoe white shoots and leaves have a diuretic, hemostatic, analgesic, anti-inflammatory, anti-atherosclerotic, hypotensive effect; stimulate cardiac activity, reduce the excitability of the central nervous system.
Sophora Japanese fruits have wound healing properties, accelerate tissue regeneration, reduce fragility and permeability of capillaries, increase the bodys ability to absorb ascorbic acid.
Milk thistle fruits have hepatoprotective, choleretic and choleretic effects, improve liver function, and normalize digestion.
Peony evading rhizomes and roots have a calming effect with increased excitability, phobias, hypochondriacal conditions, with vegetative-vascular disorders of various etiologies, as well as painkillers; increase the acidity of gastric juice.
Sowing oats grass exhibits diaphoretic, diuretic, antipyretic effects.
Celandine grass has anti-inflammatory, antimicrobial, antifungal, anti-trichomonas, anti-tuberculosis, immunosuppressive, cytostatic and antihistamine effects.
Heliskan has an immunomodulatory, antitoxic, stress-protective (normalizes somatic, immunological, biochemical and morphological indicators of the bodys stress response), tonic and antioxidant effect. The drug weakens side effects and helps to maintain normal bone marrow hematopoiesis during cytostatic and radiation therapy, helps to increase the nonspecific resistance of the body.
Pharmacokinetics
Not studied.
Clinical characteristics.
Indications.
Apply to adults as part of complex therapy:
with frequent recurrent and chronic viral, fungal and bacterial infectious and inflammatory diseases of the respiratory tract, bronchitis (including in patients with mastopathy and prostate adenoma);
with manifestations of secondary immunodeficiency syndrome after infectious diseases;
during and after cytostatic and radiation therapy.
Contraindications
Hypersensitivity to any components of the drug. arterial hypotension, neurological syndromes, epilepsy, bronchial asthma, angina pectoris, organic changes in the liver and kidneys, acute poisoning of various etiologies.
Interaction with other drugs and other types of interactions.
Ethanol can slightly increase the sensitivity of the body to clonidine and antipsychotics, reduce the activity of thiamine.
The drug can potentiate the effects of sedatives and hypnotics, tranquilizers, antipsychotics, antidepressants with sedative effects.
With the simultaneous use of silymarin (the biologically active substance of the fruits of milk thistle) in the highest doses and oral contraceptives or drugs used in estrogen replacement therapy, a decrease in the effectiveness of the latter is possible. Due to the inhibition of the cytochrome P450 system, silymarin thereby enhances the effect of certain drugs, namely: anti-allergic drugs (fexofenadine); hypocholesterolemic drugs (lovastatin); anticoagulants (clopidogrel, warfarin); antipsychotic drugs (alprazolam, diazepam, lorazepam); antifungal drugs (ketoconazole); some drugs to treat cancer (vinblastine).
Features of the application.
The drug is used diluted in water.
Before use, consult a doctor.
The drug contains ethanol, and therefore it should not be used for chronic liver diseases, alcoholism.
Treatment with a drug for liver diseases will be more effective if you follow a diet and stop drinking alcohol.
Due to the possible estrogen-like effect of silymarin in the highest possible doses, it should be used with caution in patients with hormonal disorders (endometriosis, uterine fibroids, carcinoma of the breast, ovary and uterus, carcinoma of the prostate gland). In these cases, consultation with a doctor is necessary.
For peptic ulcer and gastritis with high acidity, use with antacids and antispasmodics. With prolonged use of large doses of the drug, it is necessary to control the acidity of the stomach, if the patient has a tendency to increase it.
If signs of jaundice appear (skin tinting from light yellow to dark yellow, yellowing of the whites of the eyes), you should consult your doctor.
Use during pregnancy or lactation.
The drug is contraindicated during pregnancy or lactation.
The ability to influence the reaction rate when driving vehicles or other mechanisms.
During the use of tinctures, one should refrain from driving vehicles, performing work requiring increased attention and speed of psychomotor reactions.
Dosage and administration.
The drug should be administered orally 30 minutes before meals.
Shake before use.
Recommended doses for adults: from 5 ml (1 teaspoon) to 15 ml (1 tablespoon) at the reception (according to the doctor's recommendation, depending on the course of the disease), diluted in a small amount of water, 3 times a day (morning, afternoon, evening) )
The duration of treatment depends on the indication for use, the course of the disease and usually ranges from 14 to 21 days. Acceptance of tinctures longer than the specified period is prescribed by the doctor individually and requires monitoring the dynamics of the parameters of the blood test. With prolonged use of the drug, it is necessary to take a break of 5-7 days after each month of taking the drug.
Children.
Do not use.
Overdose.
Symptoms: pain in the epigastric region is possible (disappears after dose adjustment in accordance with the recommendations); dyspeptic phenomena (nausea, vomiting), with a significant overdose - slowing the pulse, dizziness, drowsiness, paralysis of the respiratory center, lowering blood pressure.
Treatment: drug withdrawal, symptomatic therapy.
Adverse Reactions
From the digestive tract: dyspeptic symptoms (vomiting, nausea, diarrhea, heartburn, dyspepsia).
From the respiratory system: paralysis of the respiratory center (in severe cases), shortness of breath.
From the cardiovascular system: arterial hypotension.
From the nervous system: drowsiness, weakness.
From the skin and its derivatives: increased alopecia, hypersensitivity reactions are possible in rare cases, including skin rashes, itching, urticaria, hyperemia, edema.
From the kidneys and urinary system: increased diuresis.
Others: it is very rare to see an increase in existing vestibular disorders.
Shelf life.
2 years.
Do not use after the expiration date indicated on the package.
Storage conditions.
Store at a temperature not exceeding 25 ° C.
Keep out of the reach of children.
During storage, precipitation may occur, which does not affect the effectiveness of the drug.
Shake well before use.
Packaging.
100 ml in a bottle; 1 bottle in a pack of cardboard.
100 ml in a can; 1 can in a pack of cardboard.
Vacation category.
Over the counter.
Manufacturer.
Pao "chemical farm" red star ".
The location of the manufacturer and the address of the place of business.
61010, Ukraine, Kharkov, st. Gordienkovo, 1.
arrow_upward