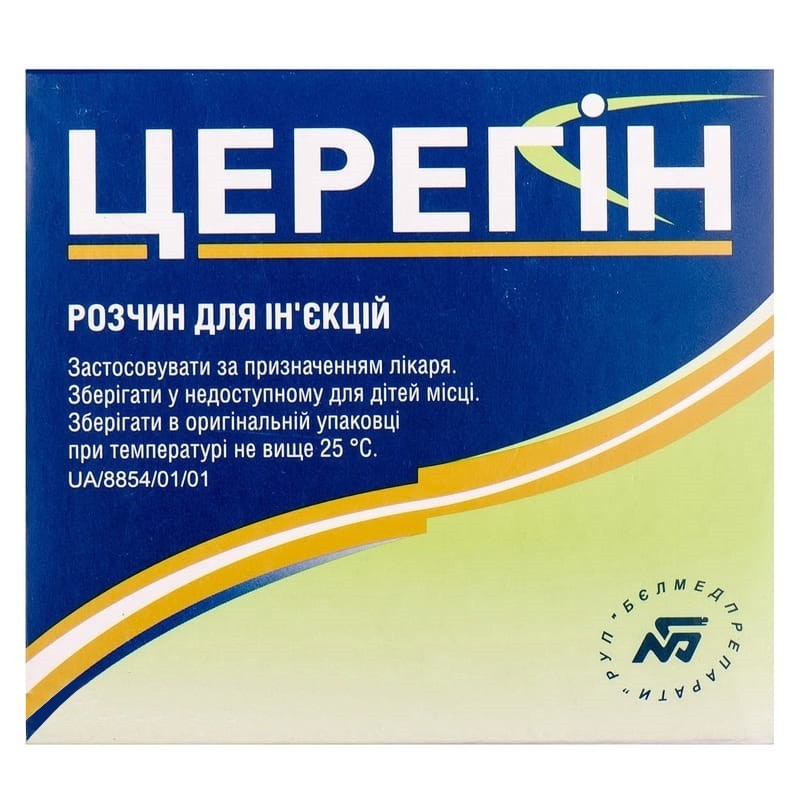  
Ceregin
Secure and encrypted payment processing

We ship to over 40 countries including the USA, UK, Europe, Australia and Japan

Guaranteed refund or reship if you haven't received your order
The drug contains low molecular weight biologically active neuropeptides that pass through the blood-brain barrier and directly enter the nerve cells. It has an organo multimodal effect on the brain, manifests itself in the ability of the drug to metabolic regulation, functional neuromodulation and neurotrophic activity. It has a neuroprotective effect.
Indications
In the complex treatment of progressive disorders of cognitive and intellectual-mnestic functions with:
neurocirculatory dystonia;
ischemic stroke (acute and recovery periods)
traumatic brain injuries (traumatic brain injury, concussion, condition after surgery on the brain)
Alzheimers disease;
mixed vascular dementia and dementia
endogenous depression resistant to antidepressants.
Contraindications
Hypersensitivity to the drug, acute renal failure, epilepsy, pregnancy and lactation.
Dosage and administration
The drug is used only parenterally in the form of intramuscular injections (1-5 ml) or intravenous drip infusion (10-50 ml). The dose and duration of treatment depend on the nature, severity of the disease, as well as on the age of the patient.
The standard duration of treatment is 4 weeks (at least 5 injections per week, if possible daily).
Overdose
So far, no cases of an overdose of Ceregin have been reported.
Structure
active substance: 1 ml of a hydrolyzate of the brain of cattle and pigs containing amino acids and peptides (in terms of dry matter), in total - 57-87 mg / ml. The total amino acid content is 27-42 mg / ml including each amino acid (in mg / ml) of L-lysine - 0.4-5.5; L-Histidine - 0.3-4.5; L-arginine - 0.8-5.4; L-aspartic acid - 1.0-3.5; L-threonine - 0.7-4.2; L-serine - 0.4-3.5; L-glutamic acid - 3.0-6.5; L-alanine - 0.8-5.2; L-proline - 0.4-4.2; Glycine - 0.7-2.1; L-valine - 1.3-4.1; L-Methionine - 0.4-2.0; L-leucine - 2.0-6.0; L-phenylalanine - 0.4-2.0; L-isoleucine - 0.8-3.6; L-tyrosine - 0.2-0.7;
excipients: phenol.
Storage conditions
Store in the original packaging at a temperature not exceeding 25 ° C.
Shelf life - 3 years.
arrow_upward