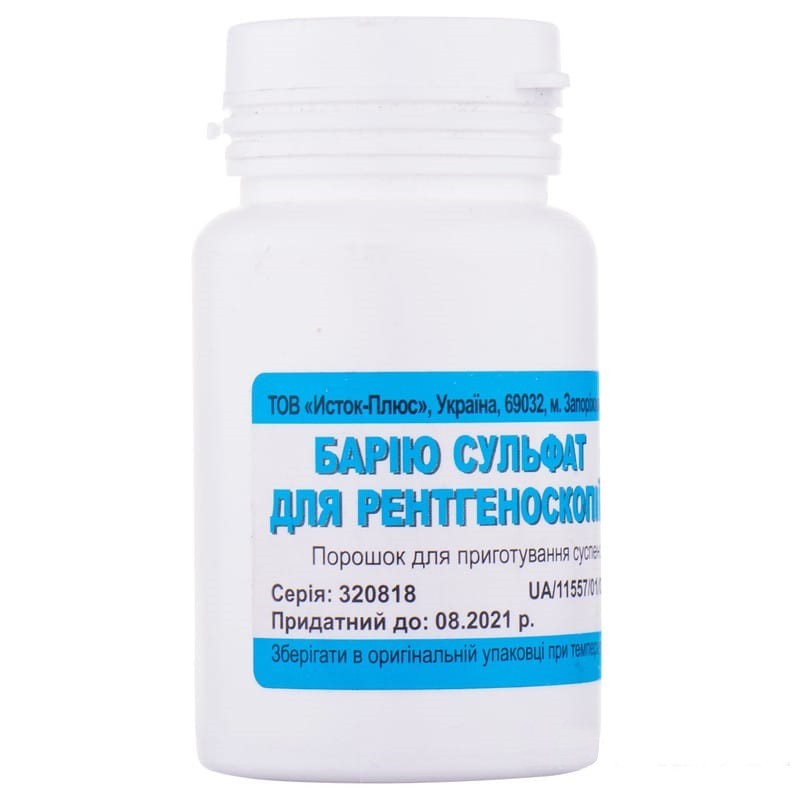  
Barium sulfate
Secure and encrypted payment processing

We ship to over 40 countries including the USA, UK, Europe, Australia and Japan

Guaranteed refund or reship if you haven't received your order
Powder for the preparation of a suspension of Barium sulfate is used for x-ray examination of the pharynx, esophagus, stomach and intestines (including the double-contrast method).
Structure
Active ingredient: barium sulfate - 80 g.
Contraindications
Hypersensitivity to the drug. Violation of the integrity of the walls of the gastrointestinal tract (suspicion of it), esophagotracheal fistula, violation of swallowing, bowel obstruction, constipation, esophageal stenosis, bleeding from the digestive tract, atresia, condition after surgical interventions on the digestive tract, malabsorption syndrome, food allergy.
Mode of application
The suspension is prepared in boiled or distilled water immediately before use. For X-ray examination, the pharynx, esophagus, stomach and small intestine are taken orally, for irrigoscopy, they are administered rectally.
For oral X-ray examination of the pharynx, esophagus, stomach and intestines, Barium sulfate for fluoroscopy is prescribed in the form of an aqueous suspension. To prepare the suspension, the powder is diluted in warm boiled or distilled water in a ratio of 1: 1 to 4: 1 for adults and from 1: 1.5 to 1: 2 for children and mix well for 4-5 minutes (can be mixed). The dose for adults per examination depends on the method of examination and ranges from 50 ml to 300 ml of suspension for children - from 50 ml to 100 ml.
For adults, for a X-ray examination of the colon, rectally, a suspension of 300 g of powder and 1500 ml of water is administered in an enema into the rectum; the dose of the drug per examination is 1000 - 1500 ml.
Application features
Pregnant women
During pregnancy, the use of barium sulfate is not recommended. If it is necessary to conduct an examination during lactation, it is necessary to stop breastfeeding within 24 hours after the examination.
Children
The drug is used in pediatric practice.
Drivers
Does not affect.
Overdose
It is not known.
Side effects
Allergic reactions, constipation; isolated cases of the so-called "barium" appendicitis are described.
When using gas-forming substances in the process of double contrasting - discomfort in the epigastric region.
Interaction
Not marked.
Storage conditions
Store in the original packaging at a temperature not exceeding 25 ° C.
Keep out of the reach of children.
Shelf life is 3 years.
arrow_upward