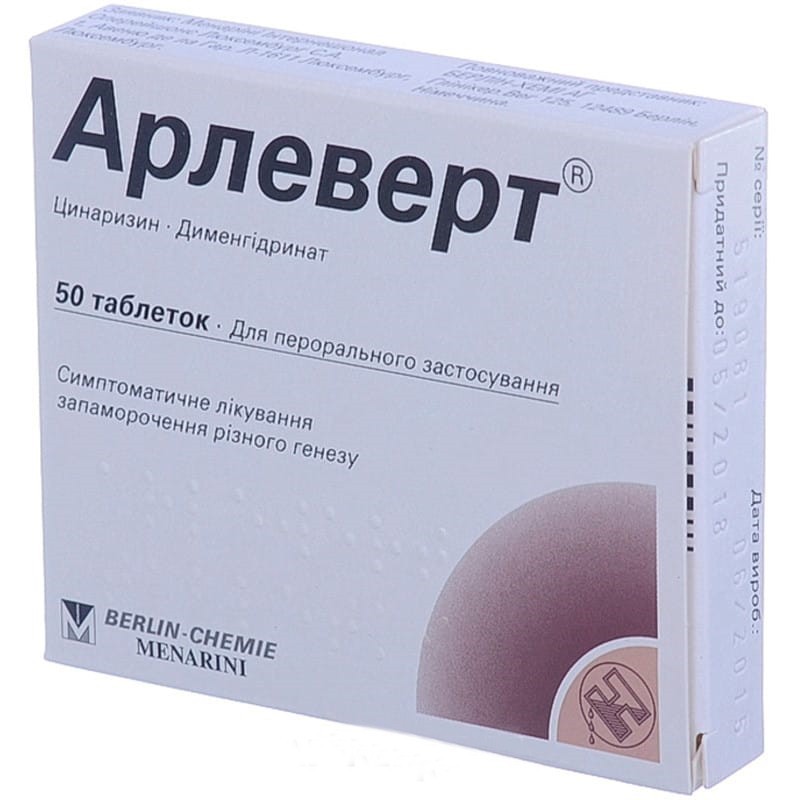  
Arlevert® [Dimenhydrinate, Cinnarizine]
Secure and encrypted payment processing

We ship to over 40 countries including the USA, UK, Europe, Australia and Japan

Guaranteed refund or reship if you haven't received your order
Pharmacological properties
dimenhydrinate, the chlorheophylline salt of diphenhydramine, acts as an antihistamine with anticholinergic (m-anticholinergic) activity, has a parasympatolytic and inhibitory effect on the central nervous system. acting on the chemoreceptor trigger zone in the iv region of the ventricle, dimenhydrinate suppresses the urge to vomit and dizziness. dimenhydrinate mainly affects the central vestibular system.
Due to its ability to block calcium receptors, cinnarizine inhibits the entry of calcium into the vestibular sensory cells, thereby acting as a vestibulolytic agent. Cinnarizine mainly affects the peripheral vestibular system.
Cinnarizine and dimenhydrinate are known agents for treating dizziness. According to the test results, the combined product is superior in effectiveness to each of these drugs individually. As a remedy for motion sickness, this drug has not been studied.
Pharmacokinetics Suction and distribution. After oral administration of dimenhydrinate, diphenhydramine is rapidly released from it. Diphenhydramine and cinnarizine are rapidly absorbed from the digestive tract. In person Cmax plasma cinnarizine and diphenhydramine are reached within 2–4 hours. T½ both substances from plasma is 4–5 hours (despite the fact that they are used separately or as part of a combination agent).
Metabolism. Cinnarizine and diphenhydramine are extensively metabolized in the liver. Cinnarizine is metabolized due to cycle hydroxylation reactions, which are partially catalyzed by the cytochrome CYP 2D6 isoenzyme, and N-dealkylation reactions, for which cytochrome isoenzymes exhibit low selectivity. The main pathway of diphenhydramine metabolism is sequential N-demethylation of the tertiary amine. The results of an in vitro study on microsomal fractions from the human liver indicate that these reactions proceed with the participation of various cytochrome isoenzymes, including the CYP 2D6 isoenzyme.
Since both active components of Arlevert are extensively metabolized by the liver enzymes of the cytochrome P450 system, in patients with severely impaired liver function, plasma concentrations of the components (unchanged) and T½ are increasing. For diphenyldihydramine, this is indicated in patients with cirrhosis.
Excretion. Cinnarizine is excreted mainly with feces (40-60%) and partially with urine (mainly in the form of metabolites conjugated with glucuronic acid). Diphenhydramine is excreted in the urine and mainly in the form of metabolites; the main metabolite (40-60%) is the deaminated derivative - diphenylmethoxyacetic acid.
Diphenhydramine is excreted exclusively through the kidneys, so Arlevert should not be used in patients with severe renal impairment (creatinine clearance ≤25 ml / min).
Indications
Symptomatic treatment of dizziness of various origins.
Application
Adults 1 tablet 3 times a day. tablets are taken after meals, without chewing, with a small amount of liquid, for example, 0.5 cup of water.
Elderly patients. No dose adjustment is required.
Impaired renal function. In patients with impaired renal function of mild or moderate severity, Arlevert should be used with caution.
Impaired liver function. Studies of the use of the drug in patients with impaired liver function have not been conducted.
In general, the duration of the drug should not exceed 4 weeks. The decision on a longer treatment should be made by the doctor.
Contraindications
Allergic reactions to active substances, diphenhydramine or other antihistamines of a similar structure, or to any excipient; severe renal impairment (creatinine clearance ≤25 ml / min); severe liver dysfunction; angle-closure glaucoma; cramps suspected increased intracranial pressure; alcoholism; urinary retention caused by disorders of the urethra and prostate gland. convulsions (e.g. eclampsia, epilepsy), acute attack of asthma, pheochromocytoma, porphyria.
Side effects
Adverse reactions that most often occurred during clinical trials were confusion (drowsiness, tiredness, fatigue, stunning) in 8% of patients, and dry mouth in 5% of patients. usually these reactions proceed in a mild form and stop within a few days, even against the background of prolonged use.
Adverse reactions that occurred during the use of the drug Arlevert, according to clinical trials and subsequent spontaneous reports, are shown in the table:
Organs and organ systems
Frequency
Often

(1/100, 1/10)

Sometimes

(1/1000, 1/100)

Rarely

(1/10 000, 1/1000)

Rarely

(1/10 000)

On the part of the blood system and lymphatic system
 
 
 
Leukopenia, thrombocytopenia, aplastic anemia
From the immune system
 
 
Allergic reactions (e.g., skin reactions)
 
From the nervous system
Drowsiness, headache
Paresthesia, amnesia, tinnitus, tremor, nervousness, cramps
 
 
On the part of the organ of vision
 
 
Visual impairment
 
From the digestive system
Dry mouth, abdominal pain
Dyspepsia, nausea, diarrhea
 
 
On the part of the skin and subcutaneous fat
 
Sweating, rash
Photosensitivity
 
From the kidneys and urinary tract
 
 
Difficulty starting urination
 
In addition, the following adverse reactions are associated with the use of dimenhydrinate and cinnarizine:
dimenhydrinate: paradoxical excitability, increased severity of existing angle-closure glaucoma, reverse agranulocytosis, dizziness, blurred vision, diplopia, tinnitus, tachycardia, arrhythmia, angina pectoris, hypotension, constipation, increased appetite, rash, rash, urticaria, urticaria decreased sweating, dry mucous membranes;
cinnarizine: constipation, weight gain, chest tightening, cholestatic jaundice, extrapyramidal disorders, skin reactions resembling systemic lupus erythematosus, lichen planus, hypersomnia, lethargy, dyskinesia, parkinsonism, stomach discomfort, vomiting, muscle stiffness. In the medical literature, a special case of obstructive jaundice is mentioned. In elderly patients with prolonged treatment, cases of increased or the appearance of extrapyramidal symptoms were observed, sometimes in combination with depressive states. In such cases, the use of this tool should be discontinued.
special instructions
Arlevert does not cause a significant reduction in hell, but patients with hypotension should be used with caution.
To minimize stomach irritation, Arlevert should be used after meals.
Arlevert should be used with caution in patients with diseases or conditions that may be aggravated by the use of anticholinergics, for example, patients with increased intraocular pressure, obstruction of the goalkeeper (pylorus) of the stomach and duodenum, prostatic hypertrophy, hypertension, thyrotoxicosis or severe coronary artery disease. Arlevert should be used with caution in patients with Parkinsons disease. Since Arlevert can cause drowsiness, especially at the beginning of treatment, you should refrain from the simultaneous use of alcohol, CNS depressants or tricyclic antidepressants.
The use of Arlevert in porphyria should be avoided.
Arlevert should be used with caution in patients with hepatic or renal failure.
Use during pregnancy and nbsp
arrow_upward