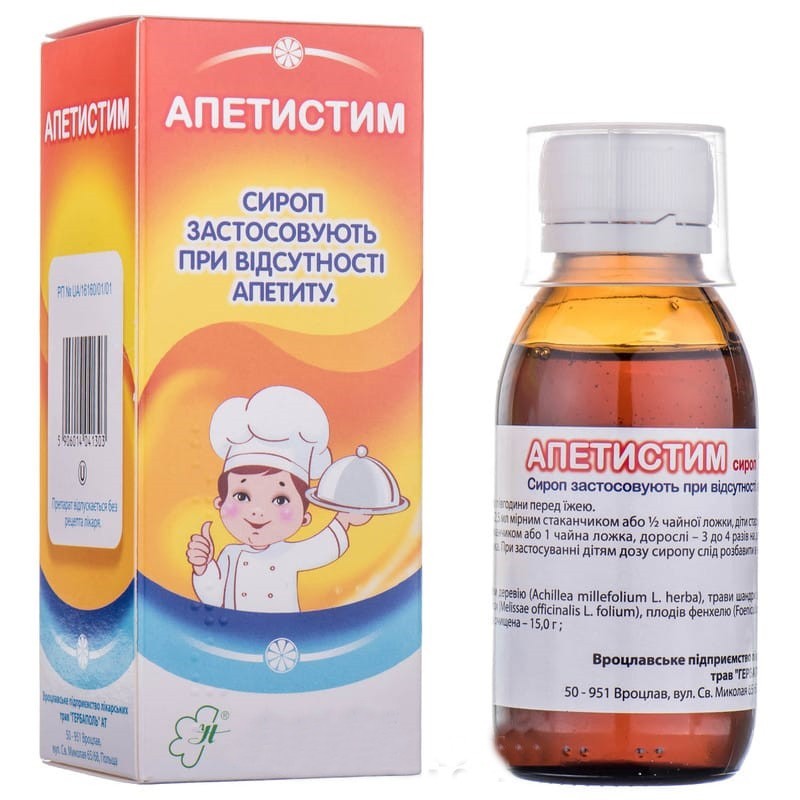  
Apetistim
Secure and encrypted payment processing

We ship to over 40 countries including the USA, UK, Europe, Australia and Japan

Guaranteed refund or reship if you haven't received your order
Syrup Apetistim is used in the absence of appetite.
Structure
Active ingredients: 100 g of syrup contains a complex liquid extract (1: 2) with: yarrow herbs (Achillea millefolium L. herba), common chandra herbs (Marrubium vulgare L. herba), lemon balm leaves (Melissae officinalis L. folium), fennel fruits (Foeniculum vulgare Mill., Fructus) (3/2/3/2), extractant - purified water - 15.0 g;
Excipients: orange concentrate, sodium benzoate, sucrose, purified water.
Contraindications
Hypersensitivity to excipients or to plants of the family Asteraceae.
Mode of application
The syrup is taken orally, about half an hour before a meal.
A measuring cup is attached to the package, which facilitates dosage.
Children aged 3 to 6 years - 2.5 ml 2 times a day (with a measuring cup or ½ teaspoon), children aged 6 to 18 years - 5 ml 2-3 times a day (with a measuring cup or 1 tea spoon ).
Adults - 15 ml 3-4 times a day (with a measuring cup or 1 tablespoon).
Application features
Pregnant women
Due to the lack of sufficient data, syrup should not be used during pregnancy and lactation.
Children
When used in children, the dose of syrup should be diluted in a small amount of weak tea.
Drivers
Does not affect the ability to drive vehicles and work with mechanisms.
Overdose
Not described cases of overdose.
Side effects
From the skin and subcutaneous tissue (allergic skin reactions) - the frequency is unknown.
Disorders of the respiratory system, chest and mediastinal organs (allergic reactions from the respiratory system) - the frequency is unknown.
Interaction
No data.
Storage conditions
Store at a temperature not exceeding 25 ° C, out of the reach of children.
Shelf life is 3 years.
arrow_upward