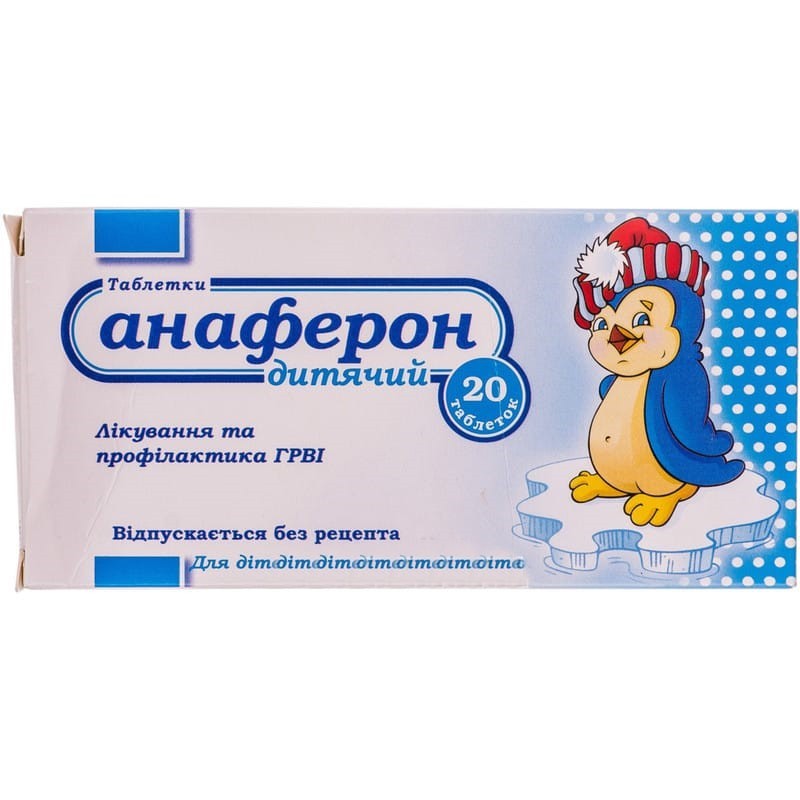  
Anaferon
Secure and encrypted payment processing

We ship to over 40 countries including the USA, UK, Europe, Australia and Japan

Guaranteed refund or reship if you haven't received your order
Anaferon tablets for children is used as part of complex therapy and for the prevention of acute respiratory viral infections (including influenza).
Structure
Active ingredient: 1 tablet contains antibodies to human gamma interferon affinity purified: a mixture of homeopathic dilutions C12, C30 and C50 - 3 mg.
Excipients: lactose, microcrystalline cellulose, magnesium stearate.
Contraindications
Hypersensitivity to the components of the drug.
Mode of application
The drug is taken orally by 1 tablet 30 minutes before or 30 minutes after a meal. The tablet is kept in the mouth (preferably without chewing or swallowing) until completely dissolved.
When prescribing the drug to young children (1 month - 3 years), it is recommended to dissolve the tablet in a small amount (1 tablespoon) of boiled water at room temperature.
Application features
Pregnant women
On appoint.
Children
Apply to children aged 1 month to 18 years.
Drivers
Does not affect.
Overdose
In case of accidental overdose, dyspeptic symptoms are possible due to the constituents of the drug.
Side effects
Allergic reactions are possible, including pruritus, rash, hives, flushing of the skin, and swelling.
Interaction
There are no cases of incompatibility with other drugs.
If necessary, the drug can be used in conjunction with other antiviral, antibacterial and symptomatic agents.
Storage conditions
Store at a temperature not exceeding 25 ° C.
Keep out of the reach of children.
Shelf life is 3 years.
arrow_upward